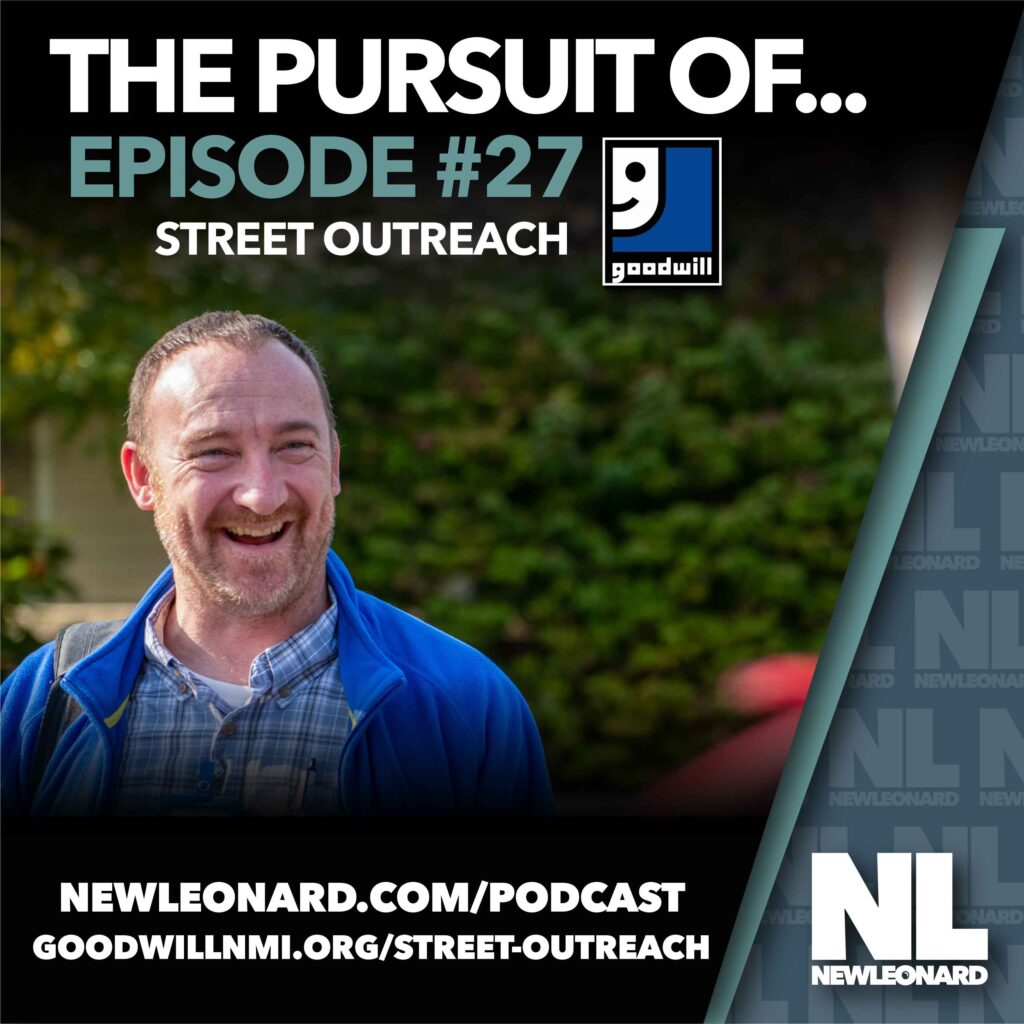 The Pursuit Of Goodwill Northern Michigan Street Outreach
Ryan Hannon, Community Engagement Officer at Goodwill Northern Michigan Street Outreach, talks about his role and the importance of community engagement in ending homelessness. He discusses the misconceptions about homelessness and the importance of actively debunking myths. He also touches on the role of Goodwill beyond its brick and mortar stores in supporting programs like Street Outreach and Housing Support Services.
Mark L. Wilson (00:03):
The pursuit podcast, a purely guest centric show, focusing on people and organizations that advance positive change positivity can be anywhere. And in a time of vast discord, the pursuit of is finding those who champion its causes loudest. Join us as we sit and learn about the pursuits of local leaders in their community, let's go,
Ryan Buck (00:26):
00;00;40;05 – 00;00;42;28
Mark
I'm doing great. Business is booming. Springtime is upon.
00;00;42;28 – 00;00;51;03
Ryan
Us. Is enough of that. Oh, boy. Today, our guest is Ryan Hannon, community engagement officer, Goodwill Northern Michigan Street Outreach. How are you, sir?
00;00;51;06 – 00;00;52;02
Ryan H
I'm good as well.
00;00;52;07 – 00;01;16;28
Ryan
Excellent. Thank you for being here. Really appreciate it. I'm so we we're talking a little bit before we rolled. You have done podcast before. Hopefully this is a comfortable setting for you and you're feeling nice and relaxed on a sunny spring day. I say community engagement officer and think about that. That's a title that sounds like it comes with a lot of hours and a lot of emails and a lot of teams meetings.
00;01;16;29 – 00;01;17;26
Ryan
Is that the case?
00;01;18;04 – 00;01;40;25
Ryan H – Goodwill Northern Michigan Street Outreach
It does. There's a lot of ways to engage out there. And it's it's interesting because in all my years in doing Street outreach, a lot of my work was community engagement. And that's kind of how I got to where I am, because the value of that work is so important in ending homelessness. And they saw that and ended up taking up over 50% of my time anyways.
00;01;41;08 – 00;01;54;11
Ryan H – Goodwill Northern Michigan Street Outreach
So now I get to focus solely on that. If you will, and even more, and really focus on promoting like what it is to end homelessness and how the people that are in the community can interact and help us do that.
00;01;54;21 – 00;02;07;25
Ryan
That's amazing. When you're out and about and maybe pre-pandemic, when you're at a social function and somebody says, Hey, what do you do? What's the elevator pitch? Or What's the Empire State Building elevator pitch?
00;02;08;03 – 00;02;24;25
Ryan H – Goodwill Northern Michigan Street Outreach
It certainly depends on who I'm talking to, but it's usually I talk about helping people and their homelessness and start with their or I might say, you know, homeless outreach and people sort of glaze over or they're like, Oh, that's so good, or what does that mean? So I start to tell them and really helping people in their homelessness.
00;02;24;25 – 00;02;49;26
Ryan H
And I see it in a way like that because people who are homeless have wherewithal, they have life experience, they're able to do things. And sometimes the myth or the misconception is there's just people out there just sitting there waiting for you to come along and people it's not really like that. So being with people and engaging with them who are experiencing homelessness and helping them in everyone's situation is different.
00;02;50;08 – 00;02;59;27
Ryan H – Goodwill Northern Michigan Street Outreach
So really coming alongside people, helping them identify what it is that they need to get out of that situation. So really, that's kind of where I start.
00;03;00;18 – 00;03;24;16
Ryan
Well, you touched on something that's really interesting in that if I heard that right, handling preconceived notions that may not be accurate or myths or untruths about homelessness, does that come up with somebody who is engaged, whose eyes don't glaze over? I'm sure it's not as much as you think. But does that come up and do you take those opportunities to have those discussions?
00;03;24;25 – 00;03;55;01
Ryan H – Goodwill Northern Michigan Street Outreach
I do, and I really try to be proactive with it first, because the first question I get is, yeah, but what about those people who want to be homeless? So before we get into actually, it's not that we're trying to be proactive with it and talk about why people are out there and and get into that. So it's really about meeting people where they're at, in listening and even in the outreach work, engaging with people who are experiencing homelessness out there, they already have in their mind that you're going to think a certain way about them anyways.
00;03;55;01 – 00;04;15;22
Ryan H
So it's almost the same type of thought process of engaging with people is to start to debunk that myth, find a way when we're reaching people who's someone who's homeless and letting them know we understand their situation and their plight and we're not here to judge. And then that helps us get to a place to to talk.
00;04;15;23 – 00;04;25;04
Ryan
When you say the word goodwill, I think, yeah, a certain thing comes up, brick and mortar comes to mind, but it's so much more. Right.
00;04;25;13 – 00;04;52;02
Ryan H – Goodwill Northern Michigan Street Outreach
It is, yeah. You hear goodwill, you immediately think of the stores, which are certainly a part of what we do and help us to to fund the great programs like Street Outreach, the goodwill in housing support services, and then other stuff on the food side. But it really to me, I embody that in goodwill and coming alongside reaching out to somebody who's homeless, who normally wouldn't be reached out to in that way.
00;04;52;02 – 00;04;59;06
Ryan H
It's a good thing to do. It's the right thing to do. And coming to do that, like for the right purpose. In the right way. Yeah.
00;04;59;10 – 00;05;14;14
Mark
Can I get something out of the way right now? Yeah. Since you brought up the store, there's a misconception out there that the store just functions as a job creation like profit machine and that the money doesn't actually get to the people that they're supposed to be helping.
00;05;15;02 – 00;05;39;05
Ryan H – Goodwill Northern Michigan Street Outreach
That is a good thing to point out. Yeah, because it's a non profit. There's nobody lining their pockets or getting rich doing this and it's really a social enterprise. So the store generates, you know, money from the sales and then it pours into the programs that we do. It costs a lot of money to run a homeless shelter, especially I don't know if you ever been to a homeless shelter or not.
00;05;39;11 – 00;05;51;01
Ryan H – Goodwill Northern Michigan Street Outreach
They're not good places to be in. The money you get to kind of operate it from a government standpoint isn't enough to do it in the right approach that you need to do. So.
00;05;51;15 – 00;05;59;18
Mark
So essentially, you personally see where that money's going and helping individuals.
00;05;59;29 – 00;06;21;09
Ryan H
Yeah. So for example, when we go out and or we may get a call, hey, there's this homeless person in this public bathroom, we don't want to call the cops. What do we do? Some people might call the cops. The police in Traverse City. The police call us when they get those calls and we can go in and talk to the person and intervene.
00;06;21;09 – 00;06;42;03
Ryan H
We may know the person. We may not if we don't know the person and the person doesn't know about the resources. So it's our job to go find people, talk to them and help them out. So we get to see firsthand the effects and the impact that that makes. I can tell you story after story after story of connecting with people.
00;06;42;03 – 00;06;54;10
Ryan H
And let me add this. It's a great honor to be able to be in that intimate space of a person, probably at the worst time in their entire lives, to be able to come in there and actually make a change. Wow.
00;06;55;12 – 00;07;13;29
Ryan
One of the, I think, admirable pieces of this pursuit is the fact that you endeavor to know these individuals. What kind of tools do you have at your disposal to help you with that and keeping information on these individuals the best way you can? And do you need more support in that capacity?
00;07;14;10 – 00;07;37;05
Ryan H-Goodwill Northern Michigan Street Outreach
We certainly need more support. The tools we use, we think about outreach and now do community engagement. So I bring the plight of what I've seen, the experiences out to the community to create a better system in a better, easier way out of homelessness. But in general, in outreach, when we're reaching people, we're going out to run interference in their life.
00;07;37;24 – 00;08;08;22
Ryan H
A lot of the work is sometimes helping people realize they're worthy of the help that's even available, whether they know about it or not. That's a really critical piece. Also letting them know what it is that they can be eligible for, helping them find out, get information about what they need to get out of homelessness, but then connecting them to those things and the homeless response system in the folks that are identified in need, say a subsidy, say they don't have enough to help pay rent.
00;08;09;03 – 00;08;35;22
Ryan H
There's a whole process. You have to have document. It's identification and application and applying and waitlist and waiting. So helping folks stay engaged and encouraged, not a false sense of hope, but that hang in there, it will get better is really important. And then we think about the system and people who are experiencing homelessness, they don't just kind of move around the community or northern Michigan in pathways or corrals or people.
00;08;35;22 – 00;08;59;19
Ryan H
They have lives. So continuing to engage with them and let them know what we're doing and why it's important to help find the people takes tools we have. Part of the response to homelessness is information database, similar to electronic medical records we're able to share in real time and streamline the process with other agencies within the continuum of care, if you will.
00;08;59;20 – 00;09;23;22
Ryan H
So that's interesting, critical. It's interesting. I'm glad it's being nonprofits and homeless work. It's not the best database and smooth running, like you say, if you were like a Wall Street company or something. Right. But it's really important to be able to to use that so you can pick up where you left off or maybe another outreach worker comes along or maybe something happens, someone goes to jail or the hospital, or maybe they find a place to stay for a while.
00;09;23;23 – 00;09;41;13
Ryan H
You want to be able to meet them where they're at and continue on. Pick up where you left off and move forward or start over or change direction. The end of homelessness for people is it can be different. Sometimes people reunify with family and if we can help someone get out of homelessness, off the street and live with their family, that's great.
00;09;41;13 – 00;09;45;13
Ryan H
We don't have to say no. Stay here. Let's get you a housing voucher because that's that may not work.
00;09;45;26 – 00;10;11;17
Ryan
Right. That there is a lot compartmental ized into that and it's really staggering what it takes to make this happen literally every day. But the website says that tonight, more than 200 people in our region will spend the night without a safe home to sleep in. Is that a pretty accurate number consistently or does that fluctuate? Do you have to update the website every so often and and how does that number what does that number mean to you?
00;10;12;04 – 00;10;32;24
Ryan H-Goodwill Northern Michigan Street Outreach
It to me, we do need updated. It's a bit low. We say over 200 that's been like that. And we we work every day to drive that number down. But right now, it's about 275 people on any given night. And in some of it's unsheltered, some of it's in homeless shelters. And when we think about ending homelessness overall, right, there's only so many resources.
00;10;32;24 – 00;10;52;01
Ryan H
There's only so much time, there's only so much housing. We have to do the best we can to keep up the most real time data so we can actually look at is what we're doing working. Do we need to adjust? Do we need to add more resources here? Take something from over here. And if we don't have that, it makes it difficult and it's really that's the key for for outreach is is knowing that.
00;10;52;06 – 00;10;59;17
Ryan
Yeah. What is it meant by connecting to resources to end homelessness directly from the street.
00;11;00;15 – 00;11;29;12
Ryan H-Goodwill Northern Michigan Street Outreach
That's worded purposely, meaning you don't have to show up at an agency or at a homeless shelter to get help. We have our tablets, we use services now and we're able to connect with applications for things, assessments that that go right into the database that we're because there's HUD is the organization that really helps fund a lot of ending homelessness work and and subsidies for people to get out of homelessness.
00;11;29;12 – 00;11;47;00
Ryan H-Goodwill Northern Michigan Street Outreach
So so we go out and we can do assessments. We can help people apply for things right where they are in the woods. Sometimes I see it's okay to sit on a log. You may be in the woods in a long next to someone who's homeless, down and out, or that's just where they're at. And people don't. They're in survival mode out there.
00;11;47;00 – 00;12;07;19
Ryan H-Goodwill Northern Michigan Street Outreach
So we have to be able to find the ways that's going to help the person. And we know through changing the system to a housing first approach, meaning we help people get housing first and then help work on their self-identified things. They need help with works. Having people become fixed before they can get into shelter or into a house doesn't work.
00;12;07;19 – 00;12;19;16
Ryan H-Goodwill Northern Michigan Street Outreach
It hasn't worked in, I don't know, 200 years since we've had homeless shelters. We have to really work with the people and find out what's it going to be that they need to help them get out of the situation. And we have to go to the people.
00;12;19;18 – 00;12;30;26
Ryan
Right. You've been with Goodwill Industries for 14 years in this role since May, when you started with Goodwill, did you envision you'd be in a role like this particularly?
00;12;31;27 – 00;12;51;20
Ryan H-Goodwill Northern Michigan Street Outreach
No, I actually first get started in like prison reentry and alternative work and started doing some of that. And then like the resources and the direction that the state took went in a little bit different direction. And so then I was out on unemployment and that's when Safe Harbor approached Goodwill, saying, we need some help. Safe Harbor was just getting started.
00;12;51;20 – 00;13;13;07
Ryan H-Goodwill Northern Michigan Street Outreach
They'd open up churches and Goodwill said, We got the guy for you. That was me. I got interviewed and that's where it began. And so I started working under the outreach umbrella at Safe Harbor, because Safe Harbor needed help and goodwill provided the wages to pay me to do it. And they put me under the street outreach umbrella, and that's when I noticed a huge gap.
00;13;13;07 – 00;13;28;18
Ryan H-Goodwill Northern Michigan Street Outreach
There was no way for people living in this night by night who better shelter around the streets to get the help? You had to go to an agency at the right time, the right day and had they had the right resources and have all of your paperwork, it was impossible.
00;13;29;08 – 00;13;29;28
Ryan
Oh, my gosh.
00;13;30;01 – 00;13;49;24
Ryan H-Goodwill Northern Michigan Street Outreach
So it started housing people, meeting where they're at and helping them in learning about the resources that were available and then bringing them to the people. And that certainly wasn't a new thing, a new phenomenon. But the idea that was new around here at the time in really turning into what I call housing focused street outreach.
00;13;50;04 – 00;13;55;10
Ryan
And that's something you brought to bear at the end at the organization. Yes, that's amazing.
00;13;55;19 – 00;13;56;01
Ryan H
It's.
00;13;56;01 – 00;14;03;20
Ryan
And had you seen that work somewhere else, what was the impetus and or the inspiration for for that particular just necessity?
00;14;03;20 – 00;14;27;22
Ryan H-Goodwill Northern Michigan Street Outreach
So being with people and thinking my everyday working folks and just just helping people survive isn't, you know, that's good. That is a good thing. Okay. But it's not making a difference. It's just keeping people alive. So I remember the continuum of care, the program, the homeless response system, as we call it, now requested a safe harbor to do a presentation and see if I was like, oh, my gosh, what are we going to see?
00;14;28;07 – 00;14;46;25
Ryan H-Goodwill Northern Michigan Street Outreach
And I said, We're going to see this. And I had this presentation ready and I did it. And Wells at that meeting, I found out, I recognized this is the meeting where people decisions are made on who gets resources and who doesn't. So I never left and I kept going and kept going and kept going and kept trying to implement change.
00;14;46;25 – 00;15;05;14
Ryan H
Right. And then learning as I went started paying attention to there's this thing the state puts on these homeless summits where it's a conference and you get and you learn about what's going on. And there I met a guy that ended homelessness or reduced street homelessness by 51% in the city of Toronto, in Canada. Like, I need to know that guy.
00;15;05;21 – 00;15;08;18
Ryan
That's a guy to know that you want to get in a city like Toronto.
00;15;08;20 – 00;15;26;20
Ryan H
Yeah. So he's now actually a really good friend of mine and I learned a lot from him and connections and helped continue to drive and do next frontline best practices, innovative things to help people get out of homelessness. And a lot of it is the system and how we as a society view people and approach it.
00;15;26;27 – 00;15;36;09
Ryan
Yeah, well, I was going to ask you where you are along the way, inspired by any other communities, large or small, doing good work and obviously kudos to Toronto.
00;15;36;19 – 00;15;37;08
Ryan H
Yeah, the.
00;15;37;08 – 00;15;38;10
Ryan
Friends that can be made.
00;15;38;20 – 00;16;02;18
Mark
And also kudos to you for recognizing who you can learn from, recognizing potential mentors and or somebody doing what you're doing that might help you emulate and or adapt to our significantly smaller town, but still facing the same issues and then the name drop. So you had said the continuum of care talk in a Tina Allen.
00;16;03;00 – 00;16;27;16
Ryan H
Tina Allen shoot back then. She wasn't there at the time. Right. And she came at a time. And she also helped to drive that work. She recognized she goes, when you come in, I'll never forget because HUD also had a lot to do with it, because they said, okay, communities, we're giving you this money to end homelessness. And now what we want you to do is we want you to find ways to make these dollars to help the people that need it the most.
00;16;28;03 – 00;16;29;15
Ryan H
And when I talked about those people.
00;16;29;15 – 00;16;50;12
Mark
Go ahead. Oh, so when I bring Tina up, I mean, we'll bring her on at some point so that she can properly explain what she does. But you said something that made me think about the need to coordinate all the resources and organizations that are trying to accomplish the same mission and to make sure nobody's like stepping on each other's toes.
00;16;50;12 – 00;17;20;22
Mark
That's why I was giving you kudos for like recognizing who you can learn from and this individual for being willing to share. Because sometimes nonprofits even get reduced to being called the nonprofit industrial complex where people are like this solution in search of a problem instead of the other way around, and individuals that justify their jobs and find ways to justify their jobs and continue getting funding just to keep their jobs instead of truly solving a problem for people in need.
00;17;21;17 – 00;17;25;25
Mark
And I like watching you or hearing you point that out. Just know. Good.
00;17;25;25 – 00;17;36;23
Ryan H
Yeah. It's so important because the bureaucracy and that kind of stuff and people have all these great ideas without actually researching is why my bald spot so big, right? That. Yeah.
00;17;37;21 – 00;17;39;03
Ryan
It's a little stressful, huh?
00;17;39;03 – 00;17;45;18
Ryan H
It is. In thankfully, you know, keep beating the drum and then people like Tina Allen come along to help implement and drive that work.
00;17;45;28 – 00;17;53;10
Mark
Yeah, keep everybody, like, playing nice in the sandbox, but yeah. So, like, just making sure everybody's pulling in the same direction.
00;17;53;10 – 00;17;57;17
Ryan H
Yeah. And coming from the mindset of abundance instead of fighting over crumbs.
00;17;57;23 – 00;17;58;04
Mark
Yes.
00;17;58;04 – 00;18;00;29
Ryan H
To try to grab it. And that doesn't help drive change.
00;18;01;08 – 00;18;21;19
Ryan
I think this has been a good analogy episode so far. I think there's been some good stuff. Anybody wants to make T-shirts, we should that we can have some good things. Well, you received your associate's degree from an NC and social sciences and you're B.A. in social work from Ferris State. So it seems like you were perfectly positioned for what you're doing.
00;18;21;19 – 00;18;25;23
Ryan
But what was your endgame when you started your collegiate career?
00;18;26;26 – 00;18;48;11
Ryan H
I'll never forget my boss at the time. Her name is Elizabeth Post. She actually now is a professor at Ferris State. She said she recognized my work. We did good work together and I was out there implementing these practices to help people instead of just distribute things. She had me this red for. Then she said, okay, I allowed you the time to get married.
00;18;48;11 – 00;19;13;27
Ryan H
No, go to school and hand me this folder. And so that's what I did. She inspired me. It's good. Like we can talk about lived experience and doing the next great thing or what we think is the next great thing. But ending homelessness, you need a professional approach. Street outreach is a professional program to come help people get out of homelessness a lot of times, and there's still a lot of struggle across the country of what street outreach is.
00;19;13;27 – 00;19;35;23
Ryan H
And a lot of it is people coming along and bringing people stuff or feeding them or whatever it is when it really is. Like we have to use our models that we learn in school to be able to come in. When I said run interference in people's lives, we come along and work with folks with motivational interviewing to help them actually move along.
00;19;35;26 – 00;19;41;13
Ryan H
We're not there to fix them per se. We want to get them out of homelessness and it takes right professionals.
00;19;41;17 – 00;19;50;01
Mark
So not the whole chicken in chicken or the egg thing. But you were already immersed in this work and it led you to college.
00;19;50;13 – 00;19;52;01
Ryan H
It did. And all my peers.
00;19;52;04 – 00;20;12;05
Mark
Expound upon it to build your skills further, to do a better job. Yeah, which is a really cool thing to point out because a lot of people, if they already have the gig, they get complacent. Like, why further your skill set? I got the job, I'm getting a paycheck and you already had the job. You went to school to do a better job.
00;20;12;09 – 00;20;13;08
Mark
Yeah, yeah.
00;20;13;14 – 00;20;32;17
Ryan H
Because it really goes back down to I remember when I first started doing this and seeing that, I mean, we watch human suffering out there every day and how do we get work in that space and continue to be effective? But I thought we have to help people out of this. That is the best way we can use our time and resources.
00;20;32;26 – 00;20;37;27
Ryan H
They can get better at doing that and I mean, it doesn't get any better than that.
00;20;38;09 – 00;20;58;25
Ryan
I hope that's a message that people hear. It's you don't hear it that often where, you know, I don't think there is a cart before the horse. There's a cart in the horse. And the way they work together, they work. But as you're talking as I'm hearing, it seems like a challenge that's almost insurmountable. It's big and you look great.
00;20;58;25 – 00;21;13;09
Ryan
You mentioned the bald spot, and I get that there's burdens to bear. But what are the little wins that you celebrate at the organization with your team to kind of combat how big it is? Are there little things that you celebrate, too, that are steps forward?
00;21;13;18 – 00;21;30;26
Ryan H
There are when we think about insurmountable and ending homelessness, when we break it down, we can look at and really look at how many like housing units we need to really help actually reduce that thought of how big it is. But little wins along the way. We think about ending homelessness and people in homelessness in different ways, right?
00;21;30;26 – 00;21;46;23
Ryan H
A room for rent, living with family that that's okay if we can help someone problem solving to oh I do have somewhere I can go and not be homeless. That is huge. But I'll share a couple stories here on this. I remember taking our new CEO on a what we call outreach immersion. Come take along and see what we do.
00;21;46;24 – 00;22;09;08
Ryan H
We were walking along the railroad tracks, approaching us as we're going this way. And there's a guy walking this way towards us and we're walking towards him on the railroad tracks. And it was a client had significant mental health issues, schizophrenia and often wouldn't acknowledge you were look at you and as we walked by I said hello. And he looked at me and said hello, which doesn't happen very often.
00;22;09;08 – 00;22;32;21
Ryan H
That was a win. Even just him acknowledging and saying hello, knowing who I was, that's a win, right? You to be a trusted person out there. That was a huge win. And there was another one. We built a place called Curzon Square. It's project based vouchers. It's permanent supportive housing through state dollars in partnerships. And people move in and there's a subsidy and they have a worker.
00;22;32;21 – 00;22;54;13
Ryan H
So when we talk about permanent supportive housing, we do the assessments and show that you actually need that level of care and intervention. So your high needs person, we moved in a woman who had lots of trauma on the street, lots of sexual assault that happened to her. She drank a lot of alcohol and we helped her get into this apartment.
00;22;54;13 – 00;23;12;14
Ryan H
Right. That's our job. Help people get out of homelessness in the housing, help them believe in the system or believe in this program that they're working in. And she got into the housing and the stats show people who have alcohol use disorder, when they move into housing, their alcohol consumption goes up for the first couple of months. It's anxiety.
00;23;12;14 – 00;23;35;29
Ryan H
It's, you know, unknown. When is this going to be taken from me then over time it steadily decreases most of the time. So we help them to move in. And she, like one of the winds, was where she was able to walk into her apartment rather than crawl because she'd be so intoxicated, she'd be thrown into apartment. And when she got to the point where she was actually walking in, still intoxicated but less intoxicated, her drinking started to go down.
00;23;36;16 – 00;23;41;18
Ryan H
Those are little winds. We celebrate that. That may not look like a win to anyone else.
00;23;42;14 – 00;23;53;25
Ryan
I don't think it's gets any more poignant than that. Walking versus crawling. There's lots of different factors and I think it's important to celebrate small wins, too, especially in big initiatives in chief.
00;23;53;25 – 00;23;57;00
Ryan H
I could ahead. This is a woman who I was convinced was going to die in the streets.
00;23;57;06 – 00;24;06;08
Ryan
Oh, my gosh. In what ratios would you say or in what ways do local versus even national politics come into play in your role?
00;24;07;10 – 00;24;40;23
Ryan H
It's mostly national, really, when we think about it, homelessness is an economic issue. It's a math problem. People's what they have coming in doesn't match what needs to go up. That's that's really the bottom line. We approach things locally with all kinds of social problems, but at least like could they give guidance and criteria, right, to say, okay, community, here's your homeless response system, here's these dollars and you can do whatever it is you think you need to do with within these parameters, street outreach, coordinated entry, meaning working together and everyone's using the same assessments.
00;24;40;23 – 00;24;59;27
Ryan H
It's a system and then housing paying rental dollars and paying caseworkers to help people keep their housing. Those are like the parameters you can use for the dollars. So locally we look at our data, we know we need more housing certainly, but we look at, okay, do we have enough going to rental assistance? Do we have enough going to management?
00;24;59;27 – 00;25;24;15
Ryan H
And so that kind of localized approach is good. Now, different nuances like locally as far as economy, I've noticed because I've been asked and I've taught and trained and spoke all across country street outreaches in Florida, West Virginia, Hawaii. What I've noticed is tourism economies have higher rates of homelessness and that it really has to do with the housing and the housing stock.
00;25;24;15 – 00;25;38;14
Ryan H
We think of vacation rentals, right? It's a great booming business around here. We need it. It's part of our economy. But we have to think about the counterbalance of that. It's taking away places for locals to live.
00;25;38;25 – 00;26;07;02
Mark
So you go to these conferences nationally like you go around, have these has it been reported if that's increasing from city to city? And the reason why I say that is it because it seems like most cities are built on a specific industry and then when that industry, when the economy shifts or that industry is changed, for instance, I mean, everybody knows Michigan automaker cities and it's severely reduced.
00;26;07;20 – 00;26;38;23
Mark
Then a lot of times cities try to reinvent themselves almost as like a tourist destination, but like becoming like America's becoming a museum where all these once great cities thriving off of a specific industry no longer have that. So now they're just saying, hey, come visit us and learn about our history here. Has that increased the homeless situation or like increase the tourism like what you just said, that like the vacation rentals and people experiencing homelessness is in that area?
00;26;39;00 – 00;26;55;23
Ryan H
That's that's interesting. I haven't looked at it totally like that. But if you think about places like Detroit, there's a the revitalize zation of certain parts of town, right? Well, people who are homeless in those parts of town are getting into those.
00;26;55;23 – 00;27;04;21
Mark
Yeah, yeah. Gentrification is. Yeah. Pushing people out. And that's the same thing that people would have to say about Brooklyn or areas of Chicago.
00;27;05;08 – 00;27;11;26
Ryan H
Etc. Even I heard a thing in the radio the other day about Biggie Smalls and his old neighborhood. Yeah, it's a whole.
00;27;12;02 – 00;27;15;11
Mark
It's all coffee shops and luxury condos as.
00;27;15;11 – 00;27;17;08
Ryan
Well. You know, Cabrini-Green in Chicago.
00;27;17;08 – 00;27;19;25
Mark
And that's what I was getting and in my home park.
00;27;19;26 – 00;27;46;06
Ryan
Yeah, you know, I talked about that and I did being from there, I saw it. I saw the South Side of Chicago in the Cabrini-Green area completely transform. It's that's interesting but the problem still remain you know do moves it's like you push down and things just spread out. So it's still important the work that you're doing. What is your approach as you look to strategic partners, as you look to people helping you?
00;27;46;16 – 00;27;50;13
Ryan
What are your criteria for a candidate to help you in your mission?
00;27;51;01 – 00;28;11;12
Ryan H
Well, anybody that we start with, like in my roots and outreach, anywhere where people who are experiencing homelessness, especially unsheltered homelessness, where they interact, how can we get better when someone is in jail and they're getting released when they release people at four, 430 in the morning and you're homeless, you got nowhere to go. 430 in the morning is not a good time.
00;28;12;04 – 00;28;42;16
Ryan H
So we would work together to try to if they needed to come to the shelter, work with the jail, and maybe they'll hold them off for more extra hours until they're able to get a ride. Say, by the way, bus over there or whatever it is, things like that, trying to coordinate the Traverse City Police Department. I remember years and years ago where I was working with the person in there and was taken, I think it was by the police and reached out, said, can you guys would you guys like reach out to me first, let me go attempt to talk to the person.
00;28;43;04 – 00;28;48;18
Ryan H
Now it's policy. Traverse City Police Department reaches of the street outreach. When they give the complaint, they've grown a lot and they.
00;28;48;18 – 00;28;52;22
Ryan
Just so people understand when you say Reach out to me, meaning you.
00;28;52;22 – 00;28;53;20
Ryan H
Ryan Hmm.
00;28;54;05 – 00;28;56;13
Ryan
That's what you mean. Correct.
00;28;56;21 – 00;28;58;15
Ryan H
That was then you're. Yes, but but.
00;28;58;16 – 00;29;10;23
Ryan
In general, yes. Literally out into the field. This is not a down the line. Down the line. Down the line. You know. Right. You are really connecting and your teams are connecting with these actual people.
00;29;10;27 – 00;29;30;13
Ryan H
Yes. Right out on the ground. And we have to be careful, too, because we don't want to be called for everything because there's a lot of hurting people out there. And we specialize in people who are unsheltered and homeless. There's a homeless hall and they call it coordinated entry central intake line. Right. For people that have the means and the spot to do that, by all means, they should call that.
00;29;30;13 – 00;29;44;18
Ryan H
We can't do everything out there. But there are people who don't trust the government or don't trust the phone line, or maybe their trauma is such in their life. Calling isn't going to work for them. That's where Street Outreach comes in.
00;29;44;18 – 00;29;56;13
Ryan
All right. What is an element of your role that would surprise people to hear that you have to tackle things, something that you have to do that would be surprising for people to hear.
00;29;56;28 – 00;30;19;09
Ryan H
I've been doing this a really long time, so I'm very knowledgeable about processes and what actually is going to help people. Demystifying or debunking misses is important and people think, Well, why don't here's a warm place to stay? Why don't they just go do that? A lot of times it's our own approach. So I may work with organizations, groups that no one ever knows about and trying to help them get better at what they do.
00;30;19;12 – 00;30;36;08
Ryan H
For example, I talked with Beta, reached out to me and like, how can we, you know, better interact with people who are homeless and reduce our kick offs off the bus, right? That sort of thing. So I went and did a presentation, talk to all the drivers and help give them tips on how to do that. Is it 100% foolproof?
00;30;36;08 – 00;31;08;23
Ryan H
No, but things like that. Or talking with other organizations, the library, safe Harbor, the shelter. The Goodwill in shelter. Right. And reviewing. Let's see. Okay. We we used to do these things where we would look at exits. Right. And review the process. And what happened? Was there things workers were doing that helped either escalate the person or further the situation to make it to where the person got kicked out rather than working through that kind of stuff, you know, really think about, but what are we doing to do no harm to the clients and enhance our approach?
00;31;08;23 – 00;31;26;04
Ryan H
That's actually going to help the people because we're not here. We don't like to see, you know, deserving people. We're going to help the people who deserve it because they all do. But when you're having a mental health episode or you're intoxicated because of trauma, you're not having a very good day. Does that mean that the help that you need shouldn't be provided?
00;31;27;12 – 00;31;46;04
Ryan
What kind of training and tools are there for your team to handle? I would say such weighty situations. You're tasked with doing the work of a doctor, a social worker, a psychologist, psychiatrist or whatever. How do you handle that? And what tools are there for your teams to bolster their skills in that regard?
00;31;46;15 – 00;32;16;03
Ryan H
Well, I have a and what we call a manual, but I have a guide to Street Outreach to give the team and other communities have used. That's helpful. But then when we think about especially shelter based client interaction, I'm trained in crisis prevention institute, nonviolent crisis intervention training and really looks at breaking down a crisis someone's having and how to intervene at what level of behavior they're at to get to helping that person calm down.
00;32;16;23 – 00;32;23;03
Mark
I'm impressed that you remember that long name of what you just said. Say it one more time.
00;32;23;13 – 00;32;30;00
Ryan H
The Crisis Prevention Institute, nonviolent crisis intervention training. They hammer that through your head and.
00;32;30;01 – 00;32;31;09
Mark
Training over.
00;32;31;09 – 00;32;32;04
Ryan H
And over and over.
00;32;32;07 – 00;32;35;14
Ryan
Clearly, that was impressive. Wow.
00;32;36;16 – 00;32;46;15
Ryan H
And basically, it's training in in trying to break down. Something may happen in seconds. It's an eight hour training and breaking down each actual point of help. Yeah.
00;32;46;25 – 00;33;06;26
Ryan
Do you think the conversation about homelessness and the challenges that these individuals face is as serious as it needs to be, especially in an area, as we talked about, that heavily focused on tourism and that's our PR angle. Is the conversation serious enough or what needs to happen if it's not?
00;33;07;07 – 00;33;39;10
Ryan H
I certainly will probably never think it's serious enough. But we've grown leaps and bounds over the years now. We have a lot of talk about it, right? Our city commission has said housing and homelessness is our number one issue. I was at a neighborhood meeting every day, rooms in the same cameras last night and the night before. But in talking about Safe Harbor actually extending their season because it's a winter shelter right now, listening to people who are upset and have these concerns and actually some really legitimate concerns about the neighborhood in the library.
00;33;39;10 – 00;33;56;19
Ryan H
Right. When you go to the library, there's nowhere to go if you're homeless in the afternoon or the weekends. If it's cold outside, what are you going to do? You have to go somewhere. The library is almost a natural place because it's public and it's warm and there's seats. But you think about the streets coming in. That's why we work so hard and training with our workers.
00;33;57;01 – 00;34;18;15
Ryan H
Not everyone. It's a small percentage of people that actually generate issues, but they're generating issues because of things that have happened to them in the past. And it's manifesting in these places we think about talking with places like the library. We have to come up with ways that's alternatives to, you know, the library shouldn't be the defunct homeless shelter for the afternoon.
00;34;18;15 – 00;34;40;06
Ryan H
So those conversations are happening and we have new stories. The gentleman who burned in the fire a few weeks back there was a newspaper article about it because a reporter picked up on it at a police media morning briefing and did the story in this afternoon. I was in the woods with her, talking to people who are homeless.
00;34;40;10 – 00;34;53;01
Ryan H
As a follow up, these things are happening that people are paying attention. Of course, we need to you know, there should be public outcry and urgency of someone burning to death in the woods. But as life goes on, people who weren't affected sort of pay attention.
00;34;53;01 – 00;35;07;06
Ryan
And to that point, how much of your role has to do with engaging the public and generating public support? And are there any keys that you have for success that organizations like Good Will use to engage with the public?
00;35;08;02 – 00;35;28;26
Ryan H
Me personally and the community engagement officer too, to help do that. And part of my job is to do that. So kind of keys are reaching out to people. Reporters are people too. They have jobs and deadlines. We have to understand there are people too. And sometimes, especially early on, I would hear all the media, they didn't get it right.
00;35;28;26 – 00;35;53;28
Ryan H
And this and that will they're people. And if we don't take the time to engage with them as well, to help them understand, you're going to have new stories that are accurate. So continuing to take opportunities. I love talking to students. There are futures so I very rarely turn down an opportunity to speak to students because they're learning and to be able to learn about the mist, to be able to debunk.
00;35;53;28 – 00;35;59;26
Ryan H
So you know, don't get too busy. Were important to talk to the little guy right.
00;36;01;07 – 00;36;20;06
Ryan
Speaking of that, and you've touched on things that are challenges to you, you know, the misconceptions surrounding homelessness. Would you say that just also a challenge is general apathy, the knowledge that homelessness is rare. It doesn't happen very often as similar way to your safety on a plane. Right. People don't think about it. Is that still a challenge?
00;36;20;06 – 00;36;24;17
Ryan
And how do you combat apathy in a respectful way?
00;36;24;17 – 00;36;47;11
Ryan H
I think it really boils down to misunderstanding in on education. People, it's hard to grasp someone actually being homeless. So people think, oh, they must choose there and they must do that. They don't want help. That is trying to help people understand that it's so difficult because people experiencing homelessness, you're the homeless person. Wherever you go, people know or think you're homeless.
00;36;47;11 – 00;37;06;03
Ryan H
You're walking with the backpack, shuffling down the sidewalk. People may holler at you. And then if you ever get to a point where you're talking to someone, you may hear things like, Yeah, I want to be homeless. It's more freedom out here. This way people are trying to save face as much as possible. They people know they're homeless, they get treated poorly.
00;37;06;03 – 00;37;21;17
Ryan H
So a way to help protect themselves, sometimes even subconsciously, with dignity is is that so? Really helping to educate people about what it is and why people are homeless that. Yeah, so I guess.
00;37;21;17 – 00;37;47;10
Ryan
Yes, right. You also stated in this is I think particularly interesting as it relates to what COVID has spurred in a lot of people mental illness is a huge challenge as it affects the homeless population in our community. Is that still the number one challenge underneath the umbrella of homelessness and is there anything else that you see trending that is something that we need to be paying attention to now?
00;37;48;10 – 00;38;08;21
Ryan H
Yeah, so homelessness, we're seeing it more now, especially when COVID hit in our town and everything shut down. Homelessness was much more visible, right? There's less people out and about. You see homeless people and people. It was an unfortunate one hand where it was now out in the open. But then you also have more calls for what I would call the criminalization of homelessness.
00;38;08;27 – 00;38;29;10
Ryan H
Those people out of here, we don't want to see needles and drunk people. Right? Not everyone is homeless. That's what they're suffering from. But even the ones that do, we have to help them. So we see that in the challenge of where do people go in the housing is getting more expensive. It's you know, it's already hard enough to try to help people get out of homelessness.
00;38;29;10 – 00;38;45;04
Ryan H
Now, it seems to be even harder. I don't want to read all doom and gloom because there are successes. We do house a lot of people, but when there's people, they just want homelessness to go away. Criminalization seems to be happening more.
00;38;45;17 – 00;38;45;28
Ryan
Right?
00;38;46;08 – 00;39;00;09
Ryan H
We're seeing people pushed out of parks in townships and things like that, and it's hard because that's moving in the opposite direction. The more time and effort and money you spend on criminalizing homelessness, the less you're doing the other way right?
00;39;00;09 – 00;39;27;01
Mark
Is it ever reported? How many of this are even individuals experiencing homelessness? And what point is it not only say not your jurisdiction, but because I know a lot of my personal family members that are out there in the streets, but they actually have a house. But they're but they have homes that are out on the streets experiencing homelessness and there's out there kicking it with them.
00;39;27;15 – 00;39;36;17
Mark
Is there any delineation between that when there's report like we don't want to see needles out there? Like maybe that needle didn't even come from somebody who is homeless.
00;39;36;18 – 00;39;53;11
Ryan H
Yeah, there's no way to really differentiate that, especially in the public eye. And we think a lot of times that people complain about people who are homeless or the people who are drunk out there. They're the ones that are congregating together and they're riding out in the open. And so there may be others who are homeless that are there.
00;39;53;26 – 00;40;08;20
Ryan H
And, you know, and they say, well, those are the homeless people. Well, then you try to talk about women. I no homeless. And it's like, well, if those homeless people weren't there, then those others wouldn't be there either. You know, you can argue it one way or another, but if they had a place to live, they weren't. No one would be there.
00;40;08;20 – 00;40;15;11
Ryan H
Right. It would be just the tourists on the beach drinking or the locals who go to the beach to get drunk and intoxicated and.
00;40;15;17 – 00;40;15;27
Mark
Pass.
00;40;15;27 – 00;40;17;15
Ryan H
Out and pass out. Yeah.
00;40;17;16 – 00;40;21;21
Mark
And the next morning, it's like we got these homeless people on the beach, and it's like that kid has a home.
00;40;21;21 – 00;40;23;16
Ryan H
Yeah, there's this boat right there.
00;40;23;16 – 00;40;47;07
Ryan
They're from here and they're visiting. They had too much fun. When you think about engaging in the community, December 21st, for example, you did the silent walk for a national homeless person's Memorial Day. How important are those types of events, public events, walks? Are they so important and how do you get the most out of those types of events?
00;40;47;07 – 00;41;08;01
Ryan H
Those events are really important and we really need to have more events. We have Homeless Awareness Month in November, but we want to try to keep it in the forefront in the minds of the community, but in a way that's engaging and positive and hopeful because it's kind of like when you see on TV and you see the commercial of the abused animals, right?
00;41;08;01 – 00;41;13;20
Ryan H
And it's all doom and gloom. It's almost like a rainy day. And it's like they you know, I just want to turn the channel. I don't want to see Sarah McLaughlin.
00;41;13;27 – 00;41;15;17
Ryan
That's that underlining song.
00;41;15;25 – 00;41;37;03
Ryan H
Oh, so it's like, how do we do it? In a way? So these are important. So the memorial and on December 21st every year, don't it, for many, many years, to me, it's so important. And we really it's a great awareness opportunity, but it's also a great way to educate people. I've had people they come, the families come, they bring their kids to learn about and walk in.
00;41;37;03 – 00;41;53;09
Ryan H
Just we be silent to remember the people. Not everyone who comes knows the actual people that died, but it really is a significant event to help people. And we walk around and we talk about a little bit. So the more we can talk about it in ways that people can relate, the better.
00;41;53;18 – 00;42;23;02
Ryan
Absolutely. In a January nine and ten news story that you were a part of, it was stated not by yourself, but by somebody else, that for every new housing development in the area, they'd like to see a consideration for more than low income housing. Housing for people experiencing homelessness. I know that was just January, but can you talk to because there's been a lot of announcements and we're growing TRAVIS That is growing it.
00;42;23;02 – 00;42;25;12
Ryan
Can you talk to any progress in that regard?
00;42;25;12 – 00;42;46;08
Ryan H
Yeah, Trevor City's growing. There's lots of development. It's good. We need it and we also need to be smart about it. There's all sorts of planning stuff and all that has to happen. But there's it is a business. Building is business. And how do we help make ways to make business sense to help people as well? I know developers a lot of the time get bad names.
00;42;46;23 – 00;43;11;08
Ryan H
They're people, too. They do have caring hearts. How do we help make it possible to help end homelessness? And ways are could be tax incentives. I don't think it's legal to force builders to include people who are homeless or low income units. But how? What are ways cities and municipalities and townships can promote including that because people are homeless, they're already behind the eight ball, if you will.
00;43;11;19 – 00;43;34;03
Ryan H
And when they go to rent something that maybe that their voucher can cover or they can afford, there's like 100 people that also apply that the people who are renting the people don't have to deal with all the other hassle, if you will, or more work to make it. It's it's difficult. So we know there's a building coming groans I think it's called it's right on the end of it's on a street at the end of Boardman.
00;43;34;03 – 00;43;57;07
Ryan H
It's being built and it's like a it's a co-op, right? So there's lots of philanthropy, dollars in donations and all that. But there's also some development is happening who they have. You know, it's a shared space, mixed income. They partner with Northwest Michigan supportive housing to allocate to either two or maybe three of their units are going to be specific for this program.
00;43;57;29 – 00;44;11;15
Ryan H
That's the way we house people who are experiencing chronic homelessness. Those are things that are positive. But do we have to have a community like fundraising event just to get three units? Right. It's we need more.
00;44;11;27 – 00;44;35;19
Mark
Well, that's why I stated on city commission that like I'm a big fan of partnerships with specific nonprofits, that their mission is to help with either the missing middle and or low income housing that will help free up inventory. So I think there's a lot of barriers that need to be removed to at least encourage that more.
00;44;36;02 – 00;44;58;08
Ryan H
There are a lot of barriers when you think about right now. This is a great example. What? Oh, they call it there's the city. They propose this parking lot to turn into a building. Right. And they're working with a nonprofit. And then the nonprofit went to go do their design and they found there's a I think it's a 60 foot building height limit in Traverse City or this section of Traverse City.
00;44;59;04 – 00;45;22;23
Ryan H
And it's about two feet. They need 62 feet to make this, you know, building work, building work with the bottom retail and then some middle and low income and then the top more high end market rate rent. They can't make it work because of that building height. Now, there is a way that the developer can go to the community and put it on the ballot where the community can vote and say, okay, we'll give you exemption to this.
00;45;23;15 – 00;45;24;20
Ryan H
But that takes like an.
00;45;24;20 – 00;45;25;09
Ryan
Exemption for.
00;45;25;10 – 00;45;26;03
Mark
Two feet.
00;45;26;08 – 00;45;26;20
Ryan H
For two.
00;45;26;20 – 00;45;27;05
Ryan
Feet we're.
00;45;27;05 – 00;45;30;03
Mark
Talking about. And that'll take until November now.
00;45;30;05 – 00;45;40;11
Ryan H
Until November. You don't even know if it will actually pass. Right. You have to campaign and like create fliers and talk to people. And this is a nonprofit organization that just does enough. Yeah.
00;45;40;13 – 00;45;43;19
Mark
Barely has the resources, not the resources to run a campaign and.
00;45;43;22 – 00;46;03;03
Ryan H
Exactly. Yeah, that's tough. But then there's also we think about a rural area like Traverse City is is a city, but it's actually not that big of a place the population wise. We look at Garfield Township, there's more people living in Garfield Township than there is in the city of Traverse City. Okay. How are those two working together on stuff like this?
00;46;03;03 – 00;46;27;21
Ryan H
And the other townships or county wide stuff is there. There's thought of creating like a regional entity, kind of like where Bayda is, but it is actually multi county. I don't know what you call it, but they have funding to be able to do that is could we do something like that, get innovative and work together? But it talks about coming together, playing nice in the sandbox and just having a good heart isn't enough to accomplish something like that.
00;46;27;22 – 00;46;30;19
Mark
Yeah. Yeah. Thoughts and prayers are good.
00;46;31;26 – 00;46;32;19
Ryan
But sure.
00;46;32;26 – 00;46;36;02
Ryan H
We need action. And you know, I don't think that just stuff. Yeah.
00;46;37;01 – 00;46;51;25
Ryan
Well, you know, finally I had to ask Goodwill Northern Michigan began in 1972 as Asgard Enterprises. So is there any Norse mythology that's still talked about nowadays or did Marvel just keep all that?
00;46;52;14 – 00;46;54;12
Ryan H
Yeah, I don't know.
00;46;55;08 – 00;47;00;07
Ryan
It's not a part of the the culture of their company anymore so much they Asgard peace.
00;47;00;12 – 00;47;07;19
Ryan H
No, no. Then I think like the opportunity came in, they took it or I don't know how it came about. That was before me.
00;47;08;03 – 00;47;20;14
Ryan
Yeah. It's good that the history section of the website is great. And the website, just so we are calling attention to that is goodwill. And my Lord correct. Is that the best way to find out information about all that you do?
00;47;20;25 – 00;47;40;00
Ryan H
Yeah, I think so. That website, but also the Coalition to End Homelessness, where we work together, we can't do this work alone. It's end homelessness and my dawg, we're very much a part of that and committed because we need each other and we need more support to be able to do it. Another one I like is very informational.
00;47;40;00 – 00;48;00;07
Ryan H
It's Invisible People TV. It's an organization that does homeless awareness work. They've been doing it for years and they're growing. There's are some videos on there of me and our outreach program and even some people who are homeless in Traverse City. So that's another good way to to learn.
00;48;00;07 – 00;48;10;10
Ryan
That's amazing. And how can our listeners, anybody support what you're doing, donate even? What's the best way to support you and what you are doing?
00;48;10;18 – 00;48;28;14
Ryan H
The first thing you'll see is people who are experiencing homelessness are people you don't have to be scared of. You're passing by on the street. You can look them in the eye and say hello, just like you meet someone else. That's important. People call me up and they'll say, Ryan, there's a guy holding the sign over here, or there's a guy I think he's homeless sitting on the bench.
00;48;28;22 – 00;48;58;08
Ryan H
I don't know what to do. And I'll say, Well, what's their name? They can't tell me. So it is someone, their name. And then of course donating dollars is always good, whether it be goodwill or any organization in the Coalition and homelessness, shopping and donating at the stores. We talked about that early on and people don't realize we actually we give what we call store vouchers to people so they can go shop and pick out clothes or whatever it is that they want their style size.
00;48;58;17 – 00;49;17;01
Ryan H
Not everybody has, you know, the means to even get to the store or whatever. There's certain people and we work with our partners to make that happen. But the stores are okay and we also do partner vouchers. So we'll give vouchers a stack of them every month to places like Father Fred, places where people in need may go.
00;49;17;01 – 00;49;44;07
Ryan H
And not just people who are homeless. So it's really a community owned thing that's always good in talking to people and sharing your urgency about housing for people that are housing and homelessness, and we need more of it. So any time people have the opportunity to, you know, they don't want to tell you what to see, but there are opportunities to encourage policymakers to create or help create ways for more affordable housing.
00;49;45;00 – 00;50;02;25
Ryan
Absolutely. Ryan Thank you so much for your pursuits and to all of those who pursue, along with you, endeavoring to end homelessness in our community. And thank you to our listeners. Thank you for supporting the pursuit of a podcast and thank you for pursuing the positive.
00;50;03;08 – 00;50;23;24
Mark
Hey everybody, thank you for joining us again on the Pursuit of Podcast, The Pursuit of Goodwill, Street Outreach, Community Engagement. Ryan Hannon, Goodwill Northern Michigan Street Outreach it's always a pleasure. Every time I'm around you, I feel better knowing that people like you are here and that you truly want to help. You're a real hero to me, Mom. Thank you so much for all that you do.
00;50;24;09 – 00;50;47;23
Mark
For anybody that is looking to help out and to get involved, go to Goodwill Northern Michigan Street Outreach Goodwillnmi.org/streetoutreach can donate find volunteer opportunities. The link will be in the show notes and as always for any podcasting audio video production inquiries reach out to us at NewLeonard.com.