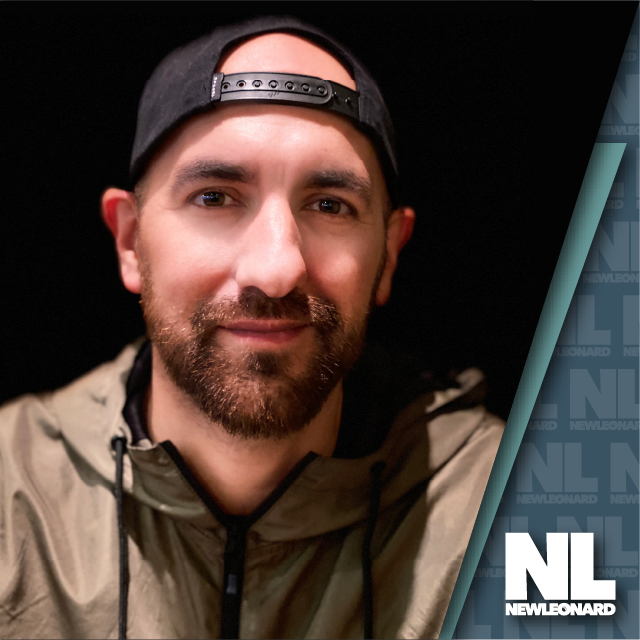 Northern Express – Mark Wilson: The Pursuer of Change
Mark Wilson certainly knows how to stay busy. He has served on the Tribal Council of the Grand Traverse Band of Ottawa and Chippewa Indians since 2014, presently as its Vice Chair. Last November, he was elected as a Commissioner for the City of Traverse City. And he's also the owner of New Leonard Media, a Native American-owned multimedia recording studio that offers podcast and vocal production in Traverse City.
"Having grown up during the golden era of hip hop music and culture, I wanted to be an entertainer in the arts of rapping, disc jockeying, and break dancing," Wilson says. This led him to work as an audio engineer, DJ, and multimedia specialist, all of which informed his work as a creator and storyteller today.
Wilson says his different roles in the community come together "in effort to support those who advance positive change." Indeed, Wilson is part of this change, both through his public service and through his podcast called "The Pursuit Of…", where Wilson and friend Ryan Buck interview guests who are in pursuit of making life better through nonprofit work, entrepreneurship, art, environmental protection, and more. You can find them on your favorite podcast platform to hear what other fascinating people and organizations are doing in northern Michigan.
https://www.leelanauticker.com/news/northern-expresss-annual-fascinating-people-issue-is-here/
https://www.northernexpress.com/news/feature/fascinating-people-2022/
Traverse City Record Eagle – Mark Wilson brings his cultural identity as an Odawa Anishinaabe to his role in becoming one of Traverse City's newest commissioners.
TRAVERSE CITY — Mark Wilson sits comfortably on a couch in a busy downtown coffee shop with a piping-hot cup of Earl Grey tea.
Donning a snug sweater, sneakers, and a black beanie he said he's had since 18, his dress reflects a calm and collective demeanor.
Wilson is a believer in good governance, and has served many roles for his community, stating that they all have mirrored his passion for tribal sovereignty, and the preservation of Anishinaabek culture.
Moving thoughtfully through his words, Wilson reflects on the town that he has called home his entire life and how his cultural identity as an Odawa Anishinaabe plays an important role in becoming one of Traverse City's newest commissioners.
Wilson said that Grand Traverse region is bleak of Anishinaabek representation, adding that many people who were raised here are disconnected to the history of the Grand Traverse Band of Ottawa and Chippewa Indians.
"Our identity is often reduced to the casinos, and our culture isn't really celebrated here, but it could be and it should be," Wilson said.
Wilson points out that the tribe's 1855 reservation land starts along the iconic M-22. Although his ancestors historically had fishing settlements in the Grand Traverse region, the town doesn't acknowledge the significant contributions Anishnaabek had on the region, he said.
He hopes to bring a better government-to-government relationship with Traverse City and the Grand Traverse Band of Ottawa and Chippewa Indians, which he said could be improved.
Wilson grew up on the outskirts of town in Grawn, and moved to the Traverse Heights area 15 years ago.
He said that he's lived through and witnessed being on the lower priority of the town's agenda.
"I'll be the first to say that I am not the best or the brightest," Wilson laughed. "But I got here because of my community, both tribal and the city … I was able to invest in myself."
Wilson never graduated high school, but obtained his GED and went on to earn his master's from Central Michigan University.
He wants to give back with service to the communities that helped him get where he is today.
Wilson was sworn in earlier this month, where he took an oath to office. He said that he is excited to see government on a different side.
With his new role as a city commissioner, Wilson stated that he hopes he can help "bring a balance," to the local government with a perspective that the city hasn't had before now.
Since 2014, Wilson has served on the tribal council for the Grand Traverse Band of Ottawa and Chippewa Indians, where he currently sits as vice tribal chairman.
During his almost two terms, Wilson has served on the Board of Directors for the tribe's economic development corporation- Grand Traverse Resort and Casinos, Grand Traverse Economic Development, the tribe's federal contracting entity, and as a member of the Board of Trustees for the Great Lakes Fisheries Trust. From 2014-2018, he sat as committee chair for the tribe's Natural Resources and Environmental Committee.
In 2017, GTB signed a resolution in support of the capstone, 20-year restoration project on the Ottaway (Boardman) River, which will reconnect the river with Lake Michigan. Wilson was among the all-council approval that supported the action.
Wilson said that for the Odawa of the region, like himself, there is a spiritual connection to the river, and he hopes that residents of the GT region "come back to the river."
FishPass will replace the deteriorating Union Street Dam with a new, complete barrier, that will have the ability to sort and selectively pass "desirable" fishes while blocking, invasive species that have harmful impacts on the river's ecosystem.
Wilson said FishPass is an innovative solution that aims to bring the river back to its former glory before the centuries of colonization that stripped its hydrological and ecological connectivity to Lake Michigan.
For him, it's about the health of the river.
"My hope is that the people can approach the river with reciprocity, and honor what the river gives us already and not just view it as a means to an end."
Wilson isn't stopping there — he said he has big plans on looking at the city's infrastructure system, and investing more into the people that call the region "home."
"I love that Traverse City has become a destination place, where we can show the beauty that this region has," Wilson said. "But I want to make sure that people who keep the region thriving aren't overlooked, that the people are not forgotten."
For Wilson, that means investing in residents to keep the city sustainable. He said that one of his cultural teachings of "looking seven generations ahead" is always in his mind when he makes decision on behalf of the community to move forward.
https://www.record-eagle.com/news/local_news/anishinaabek-neighbor-mark-wilson/article_30427140-4d50-11ec-ace4-671430e9ade0.html