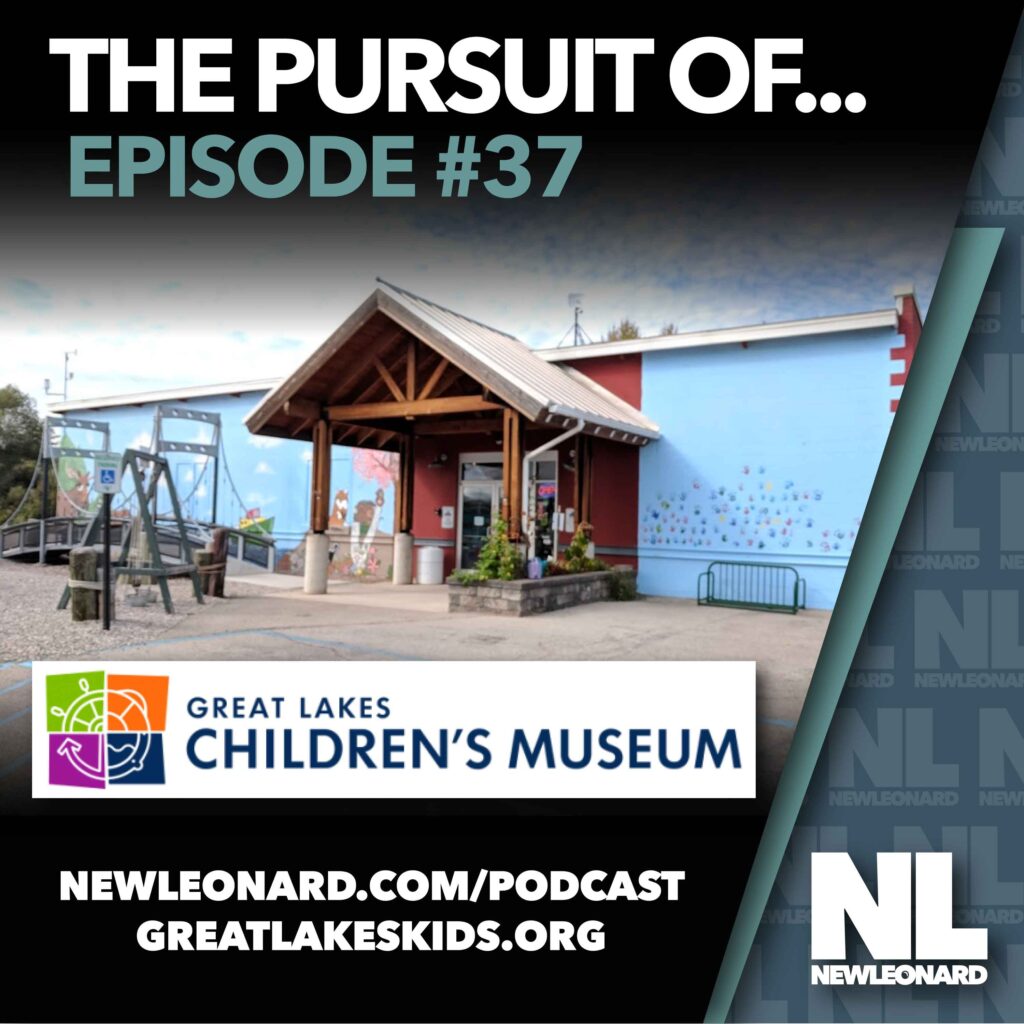 The Pursuit Of… Great Lakes Children's Museum
Our guest today is Lisa Brady, development director at the Great Lakes Children's Museum. In the podcast, Lisa talks about her job, which involves fundraising for the museum. She describes herself as a blonde, short, and bubbly person who might be underestimated at parties but uses her personality to her advantage. She enjoys talking about her job and getting passionate about it. Lisa also talks about the importance of giving and how it makes people feel good. Overall, she believes that everyone has an interesting story to tell, and she is humbled and excited to be on the podcast.
00;00;03;04 – 00;00;24;21
Mark
The Pursuit podcast a purely guest centric show focusing on people and organizations that advance positive change. Positivity can be anywhere, and in a time of vast discord, the pursuit of is finding those who championed its causes loudest. Join us as we sit and learn about the pursuits of local leaders in their communities. Let's go.
00;00;26;00 – 00;00;37;19
Ryan
Hello good people and welcome to the pursuit of podcast where it's truly not us, it's you. I'm Ryan Buck, Artist Development, New Leonard Media. And with me is the Boss. Mark Wilson. President, New Leonard Media. How are.
00;00;37;19 – 00;00;40;20
Mark
You? Hey, Ryan. I'm doing great, guy. It feels like springtime.
00;00;40;20 – 00;00;52;22
Ryan
It does a little, but that's enough of that. Just chat, chat, chat about us away. But more importantly, our guest today is Lisa Brady, development director, Great Lakes Children's Museum. How are you?
00;00;52;29 – 00;00;57;25
Lisa
I'm excellent. I'm really excited to be here. Thank you. I'm very humbled that you would ask me to be on a podcast.
00;00;57;27 – 00;00;58;19
Ryan
Really?
00;00;59;03 – 00;01;00;03
Lisa
Absolutely.
00;01;00;16 – 00;01;11;29
Ryan
Oh, gosh. I talked about this before we started, but knowing what people are about to hear, that's shocking to me that you would be at all surprised anybody would want to talk to you about any of all of this.
00;01;12;07 – 00;01;25;26
Lisa
Well, I guess the older I get, I just feel like everyone has such an interesting story. I'm sure that you feel that way, too, that, you know, the more that you get to know people and when they have some time under their belt, they have done some really cool things. There are so many cool opportunities to do in life these days.
00;01;25;26 – 00;01;44;00
Ryan
Wow. Well, humility, that's on the list of yours now if it wasn't before. But what I really like and this is a question that I started asking recently, and I just kind of like it. I don't know why. So let's say you're at a social gathering. Things are happening again. Can we call it a party? Let's say you're at a party, okay?
00;01;44;08 – 00;01;59;14
Ryan
You're at a party, you're dressed however you envision yourself. And so whatever kind of. It's a fancy party. Okay, So it's a fancy party. You're looking fantastic, feeling good. And it's one of those things somebody asks you, what do you do? What's the party version of what you do?
00;02;00;04 – 00;02;24;29
Lisa
Well, I like to say I'm the development director at the Great Lakes Children's Museum. I am the one who does most of the fundraising. So I will reach out to people individually. I'll reach out to corporations, and I will try to find people who are interested in what we do at the Children's Museum. And it's really about pairing interests because a lot of people giving is makes you feel good.
00;02;25;00 – 00;02;38;22
Lisa
That's just the bottom line. And I think some people have learned that. Some people are in that space and some people haven't grown up that way or haven't had that opportunity to be to give and see fruits of, you know, their work.
00;02;39;05 – 00;02;42;28
Ryan
Well, that was the the party answer to what you do. Right.
00;02;43;13 – 00;02;48;06
Lisa
And so that someone would take over after that. Oh, the other person, you know, at the party.
00;02;48;06 – 00;03;02;24
Ryan
Oh, well, see, that's my follow up question because now you have a semi-circle of engaged people because typically in answer to that question could be on this their title and done so it says something about the person in how they do the party version.
00;03;02;27 – 00;03;07;02
Lisa
Well, I have to take advantage of the opportunity to talk. If somebody asked me, I got to talk about.
00;03;07;02 – 00;03;20;25
Ryan
How tell him how telling. Okay, so you have your semi-circle now. One of the first things you said was fundraising. And do you think that is different than people are expecting? One of the first things to come out of your mouth as your job title?
00;03;22;03 – 00;03;47;13
Lisa
I do, to tell you the truth, because for whatever reason, I always think that people I am blond and I am, you know, short and I am bubbly. And I think and I know that a lot of times I can come off really silly or really laid back or just even flaky. And so I, I don't expect most people to think that I'm going to say that and then that I'm going to get so passionate about it.
00;03;47;16 – 00;03;53;08
Ryan
Wow. So at these parties, do you feel underestimated right away? And that's an.
00;03;53;08 – 00;04;12;24
Lisa
Advantage is an advantage. I maybe it's a it's a blond girl thing and a short girl thing, honestly, because I love wearing heels and I feel so much. I feel like it makes such a big difference if I am wearing heels in a room in a party. Because when you can look someone in the eye, you know, which is not what I've done most interesting.
00;04;12;24 – 00;04;36;26
Ryan
You know, we dive into psychology on this podcast occasionally and you've given a lot there because I, I find you to be a very confident person. Your hand shakes very confident, not overly confident. You didn't do that like bringing it in type of thing, but being bubbly and being, dare I say, even blond. Like you said, the expectation is that is set at a different level.
00;04;36;26 – 00;04;47;18
Mark
Sometimes I think it's a powerful thing if you're recognizing that and you're able to read the room that way and use that to your advantage whenever you need to.
00;04;48;11 – 00;04;49;07
Ryan
Absolutely.
00;04;49;07 – 00;04;53;03
Mark
So I would never, ever discount those things.
00;04;53;08 – 00;05;12;21
Lisa
Maybe in some circles more than others because of military background. You know, maybe that's actually where it came from, because I did go in the military right out of high school. And so my very early on experience was honestly having to prove myself to most people that I spoke with and engaged with for the next four years. Right.
00;05;13;02 – 00;05;23;14
Ryan
Well, we are going to get to that. But you've been in this current role since 2015, but the organization itself has been around for quite a while.
00;05;23;21 – 00;05;24;04
Lisa
Yes.
00;05;24;04 – 00;05;29;08
Ryan
Can you speak a little bit to any of the history? It goes back to the late nineties.
00;05;29;08 – 00;06;02;19
Lisa
Yes, it does. 1999, a bunch of a group of parents, basically parents who were interested in bringing opportunities up to the these rural northern Michigan kids, because, you know, most people came from down state and then they have museums down there. They have different kind of cultural things for kids to do. They had different kind of groups. And then up here, since there was a lot less people, they just didn't have any kind of, you know, community outside of school.
00;06;02;19 – 00;06;23;00
Lisa
And so that was an educational, you know, system. So they wanted to start that up. And so they actually started by taking this big stuffy doll was what it was called, and it had insides that would come out. And so it had a heart and like organs, but there but it was a stuffed animal and interesting.
00;06;23;00 – 00;06;23;11
Ryan
Place to.
00;06;23;11 – 00;06;44;10
Lisa
Study. Yes. And they would like go into classrooms and they would teach in a fun way, You know, when people used to come and do that now now people don't really do that in classes, I guess. Ah, we don't do that anyways. But that's how it started. And they wanted a children's museum and they fundraised and they got it going.
00;06;44;10 – 00;06;57;03
Lisa
That's what they did. And it's amazing. And the people that are involved in it are actually still involved and still check in with me. And it's an amazing group of people who have gone on to start other organizations. So, yeah.
00;06;57;14 – 00;07;13;23
Ryan
Let it be known that when you said that about those people still being involved in checking in, your face was lit up with delight and appreciation, which I think is good. But I'm really excited for this part. So you got your B.A at Appalachian State University.
00;07;14;11 – 00;07;30;26
Lisa
And let me just say, because one time went before I went to Appalachian State University, I was down in Georgia and at a party and some person asked me what I did and I had just gotten out of the military and I said, I go to Appalachian State. And she looked me straight in the eye and she said, No, you don't.
00;07;31;14 – 00;07;46;08
Lisa
And I was like, But I had just been accepted there. But I was going to start there in about a month. And I said, I really deal. And she said, No, you don't, because if you did, you would know that it was pronounced Appalachian State. Whole total zinger scored. So school.
00;07;46;23 – 00;07;53;22
Ryan
I accept that. Can we start over? Yeah. So you got your B.A. at Appalachian State University?
00;07;53;22 – 00;07;54;13
Lisa
Yes.
00;07;54;13 – 00;07;56;10
Ryan
And you graduated cum laude?
00;07;56;24 – 00;07;57;06
Lisa
Yes.
00;07;57;14 – 00;07;59;12
Ryan
Served as president of the economics club?
00;07;59;21 – 00;08;00;07
Lisa
Yes.
00;08;00;12 – 00;08;02;29
Ryan
President of the students and free enterprise?
00;08;03;06 – 00;08;03;19
Lisa
Yes.
00;08;03;20 – 00;08;07;17
Ryan
Vice president of the American Marketing Association. I don't even know how. This is.
00;08;07;23 – 00;08;08;18
Lisa
A long time.
00;08;10;09 – 00;08;21;21
Ryan
Graduate of several honors programs, valedictorian. Okay, Then you get an MBA in nonprofit organizational management from Lipscomb University. Yes. Go Bison.
00;08;21;28 – 00;08;24;08
Lisa
Mm, Yes, Go bison.
00;08;24;08 – 00;08;37;04
Ryan
And before all of that, you just talked about combat medic in the army. What? What's happening with you? What, what what was the what was the dream reality and where are you now?
00;08;37;19 – 00;08;55;28
Lisa
Well, I really I really wanted to. I like the way that you just laid that out, because that's an interesting way to think about it. The I wanted to travel the world. I always wanted to explore. My mother always told me stories about her and her girlfriends traveling before she was married and then her and her mother traveling throughout Europe.
00;08;55;28 – 00;09;16;24
Lisa
And I just always wanted to do that. So then when I found that in the military, you would be offered the opportunity. I jumped on that and I thought that being a medic, you it's an EMT on the ambulance or in an emergency room. And so I just thought that can't be a bad skillset to have going forward.
00;09;17;07 – 00;09;29;15
Lisa
And so I thought, well, go ahead with that one. And, you know, then I got into that. But then after four years in the military, really after about two, I decided that that wasn't the lifestyle that I wanted.
00;09;29;27 – 00;09;32;02
Ryan
And so what do you mean, lifestyle?
00;09;32;02 – 00;09;38;02
Lisa
Well, military is not just a job. It's definitely, you know, a 24 hour a day thing.
00;09;38;14 – 00;09;56;09
Ryan
And it because on your LinkedIn. Mm hmm. You assisted in establishing a new patient referral system you created and distributed companywide anthrax vaccination systems, trained and certified over 100 soldiers in, I think, life saving techniques.
00;09;56;09 – 00;09;57;07
Lisa
Right. Medic tech. Okay.
00;09;57;08 – 00;10;23;04
Ryan
Yeah. So kind of twofold why those are amazing accolades. Enlisted out incredible combat medic should suffice just in any circumstance. The fact that you got to and have to list all those things, but these are things that serve you well in a lot of different ways. But when you reflect on that, that's all part of the lifestyle of healing and helping.
00;10;23;23 – 00;10;36;28
Lisa
That's interesting. I didn't think of it as that at the time because it was intense. So I just thought that I didn't want to be so intense, I think.
00;10;37;05 – 00;10;40;20
Ryan
But intensity can be directed, right?
00;10;40;27 – 00;10;42;05
Lisa
Yes.
00;10;42;05 – 00;10;45;02
Ryan
Yes. If you can control that particular right.
00;10;45;04 – 00;11;06;03
Lisa
You know, I had we had a couple of situations where we were transporting people when I was in South Korea and they were they nearly died. And I 100% know that I saved at least one person's life by the things that I did in the back of the ambulance. Well, that while I know that it wasn't, it's I can't I don't want to be responsible like that.
00;11;06;03 – 00;11;16;18
Lisa
I guess that's that was just so intense. I mean, those people are way underpaid because that's like, what if I had lost that person? I don't think I could deal with that. I don't know. But it's just was.
00;11;16;19 – 00;11;17;19
Ryan
A reality that was.
00;11;17;19 – 00;11;18;19
Mark
Ended with. But you didn't.
00;11;19;01 – 00;11;25;07
Lisa
Know? I didn't know. I did. And that guy had like six kids and I still am friends with them on Facebook now. And I was like.
00;11;25;20 – 00;11;42;08
Mark
That's your full story in it. So I always look at things like a zombie apocalypse. Who has value then? And I think when that time comes like, Oh yeah, does anybody need me to edit a video? No, no, but they probably need some medics.
00;11;42;08 – 00;11;46;14
Ryan
I mean, after we all hopefully survive, people are going to want to be interviewed about how they did it.
00;11;46;15 – 00;11;47;13
Lisa
Things, you.
00;11;47;13 – 00;11;47;22
Ryan
Know.
00;11;48;01 – 00;11;50;01
Lisa
We'll be doing the same room.
00;11;50;01 – 00;11;50;09
Mark
They'll be.
00;11;50;09 – 00;12;13;24
Ryan
Successful. On the rebuild but the survival. And you were stationed at Camp Humphreys, which I mean, this is something Google of all which is incredible to me. There's opening and closed hours. At the time I Googled it, it was closed open at 8 a.m. in things like the Garrison commander's name was listed. I don't know if that should be on there, but you were in South Korea.
00;12;14;02 – 00;12;35;01
Ryan
You were 60 miles from the DMZ and it was intense in the way that you so casually said that. And it's almost implied that it was, but it's led you on an interesting path. So what was you said? The dream, the plan and the reality. So what happened after school?
00;12;35;24 – 00;12;58;05
Lisa
Well, so I couldn't I wanted to go to school. I knew that I didn't want the military or I was just ready to move on with that lifestyle, with that chapter of my life. And so I wanted to go to school and I cross-referenced schools with I was so in love with Asian culture and had visited Thailand and all throughout South Korea.
00;12;58;05 – 00;13;24;10
Lisa
So I wanted to come back. But South Korea wasn't going to be it because South Korea is basically New York City. They're Seoul. Exactly. So, yeah. So I didn't there was no opportunity and I didn't speak the language. So at that time it was China. China was, you know, sort of the Wild West frontier. And so I cross-referenced schools with Chinese business exchange programs and rock climbing programs because I really wanted to get into rock climbing.
00;13;24;21 – 00;13;43;07
Lisa
It seemed like a really cool thing to do. And so I found Appalachian State University and they offered an intern program for one year. You could be in their program and then you would teach other people moderate climb, you'd be an instructor, you get paid to instruct people. I thought, this is an excellent way to pay my way through college.
00;13;43;12 – 00;13;49;27
Lisa
So I, you know, had to get into the honors. I knew what I needed to do to get the program that I wanted. Yeah. And then we'll get back to China.
00;13;50;03 – 00;14;26;14
Ryan
Interesting. So you were inspired by rock climbing and valedictorian. That's cool. So I'm really inspired by this next part. You thought the first part was exciting. So first official job purchasing and logistics, intern with Fine Furniture Ltd in Shanghai, then moved over to a microsoft joint venture. Also in Shanghai. He did some sales and account management in Los Angeles, where after a short time when given the opportunity, you increased 21% revenue share for the fine folks at Chicken of the Sea International.
00;14;26;14 – 00;14;27;02
Lisa
That's true.
00;14;28;08 – 00;14;47;01
Ryan
And then back to CC, your roots as a business manager, then a little stint with Prudential in Hong Kong, then shoes in Nashville. Mm hmm. You spy. I saw real. This looks like some kind of witness relocation situation.
00;14;47;25 – 00;14;49;10
Mark
But in any balloon. Yeah.
00;14;49;21 – 00;14;59;16
Ryan
So? So. Okay, here's my actual question, because I know this is all true. Does everyone have to have such an impressive resume to be successful doing what you do?
00;15;00;08 – 00;15;31;28
Lisa
Well, you're very kind. I think many people don't have the desire to travel as much as I have. And also, you know, just like your whole friend groups and everything, some people feel very uncomfortable in a suitcase in a new city and then making friends. And I did not. And one of the things that you said about that chicken of the Sea increasing the business, the book of business that we had, that we had had for many years, and increasing it by that much was because of relationship development.
00;15;32;06 – 00;15;54;29
Lisa
And so they had a lot of business that they spread out among different suppliers and, you know, three people, suppliers. And so with the developing a better relationship with those people, then they gave us more business. And so that was a good learning experience basically, that everything is going to come down to your relationship, how people are comfortable working with you and interacting with you.
00;15;55;01 – 00;16;06;24
Ryan
Okay, that's a good point. And that could be maybe the answer. The next question is, of all of your varied experiences, what would you say is essential to your success in your role right now?
00;16;07;06 – 00;16;50;02
Lisa
Well, I think what is essential to both my role right now and just my entire life is, was the military leaving at 18 years old in Traverse City, which is predominantly white, middle class? And then right after my training, it was the Bosnian peacekeeping mission. We had just moved into the peacekeeping mission. I went directly to Bosnia. And so we were building bridges, rebuilding orphanages, taking candy and toys to these orphanages and visiting people and building goodwill and driving through driving into Bosnia.
00;16;50;02 – 00;17;11;22
Lisa
You know, I would saw a house that was a half a house because it was blown up on one side and people were still living in it. And so there were stairs that went up to nowhere and there were sheets up as their walls. And it it was shocking that people would live like that. And then to go on, you know, that they have to live like that.
00;17;11;22 – 00;17;35;04
Lisa
And then to go on and think that most of the world is closer to living in that reality than is what is our reality every single day. So I think being grateful for what I have every day and trying to provide other people with opportunities, that's that's a big part of my mission. Well.
00;17;35;18 – 00;17;37;17
Ryan
So being grateful.
00;17;37;19 – 00;17;38;18
Lisa
Mm hmm. Yes.
00;17;39;11 – 00;18;04;29
Ryan
Interesting. And maybe it doesn't need the the dichotomy of going from the middle class world to Traverse City. And I love how you put driving into Bosnia like it was, you know, Milwaukee, because it must not have been. And in taking those experiences because obviously it was very traumatic, but it created this intensity, but also another side of grateful.
00;18;05;09 – 00;18;24;10
Ryan
So what a cool combination. Yes. So when you took over in 2015, there's this tie up, there's this military background, there's this intensity, there's this. You're grateful. What was the first thing that you saw, however, that you really thought this needs to change? And that was a focus?
00;18;25;08 – 00;18;53;09
Lisa
Well, I was doing research before I accepted the position, and I researched the dilemma of rural children in rural families that are lower income. You know, as I moved into this role, it just became more and more apparent. And you know, something that I just see on a daily basis. So I you know, I just felt that I have been given I have been allowed to see all of these things.
00;18;53;10 – 00;19;21;01
Lisa
The Great Lakes Children Museum provides small children and their caregivers interaction points and some direction where they might not know what what to do exactly. It might be a first time parent. It might be a parent who doesn't have a lot of resources. These are the people that we fundraised for in the Underserved Support program that provides memberships and low income school groups to come in.
00;19;21;01 – 00;19;45;03
Lisa
Those kids aren't the kids that are getting to go to Italy for their spring break or even Florida for that matter, you know, so those kids are who it's going to really make a difference for, because forming these brainwaves, the things that we know these days about ages 0 to 3 and 0 to 5 being so formative, it's really helpful to have that, especially when we're locked inside a lot of people.
00;19;45;03 – 00;19;55;01
Lisa
You can't you can get out and enjoy the a lot of the winter here, but with a small child and you got to bundle them up and then you got to take them out and then they're called out for 10 minutes and it takes 20 minutes.
00;19;55;01 – 00;19;56;06
Ryan
Is relatable, everybody.
00;19;56;06 – 00;20;16;03
Lisa
Yeah. And so it's nice to have some indoor space and then also for adults to connect because I just when you have a child or young children and you're at home and, you know, you're only maybe you have someone coming home or not to even talk to you, you need another you need other adults and you need people to bounce stuff off of.
00;20;16;03 – 00;20;19;10
Lisa
And if they're under school age, you're not you might not get that summer.
00;20;19;10 – 00;20;42;02
Ryan
Right. And something is corny as it may say, it may sound rather is somewhat educational and developing their minds, developing their social interactivity. And is it that kind of thinking? So that's that's amazing that that's something you identified and something that you wanted to do. Is there something right now that's in place that you're really proud of that helps address some of that?
00;20;43;17 – 00;21;13;22
Lisa
Well, actually, we did not have as strong of an underserved support program as when I started. We had passes available that people could get through agencies such as Women's Resource Center if you happen to be there. And then you had a small child and you wanted to go, you could get a pass for two people. Now what we offer is $15, I believe, memberships that are for the entire year for your family.
00;21;14;09 – 00;21;44;01
Lisa
And all you have to do is have an eBay card and just flash it. This is we are not trying to make you jump through hoops or whatever. We just want it to be available for you. And so how we have structured our revenue streams is that, you know, the people who are coming in and paying $8 per person all summer long vacationers and all year, but 40% or in the summer, they're subsidizing the other groups that people that just don't have the type of amount.
00;21;44;01 – 00;21;52;07
Lisa
Right. And so we have this new program and then a lot of my fundraising, about 40% of what we need is fundraised for.
00;21;52;14 – 00;21;52;28
Ryan
Wow.
00;21;52;28 – 00;21;53;08
Lisa
So.
00;21;53;08 – 00;22;11;07
Ryan
Well, and that's that's an interesting question that comes up occasionally with guests on the show is a large part of your revenue is in the summer is that would that be accurate and then you have to do what you can. Yes. The other months. Yeah. Like like a lot of organizations and individuals in our area.
00;22;11;09 – 00;22;39;11
Lisa
Absolutely. Absolutely. And it was frustrating. I mean, honestly, my boss was holding his check in the beginning. He would hold his check and pay me. You know, we're not in that position at all anymore. And we have gone up on such a trajectory. But really being able to see that and I mean, financially and graphs, we can see where everything, you know, has become better that we both thought it was a really important thing and we both wanted to do good at it.
00;22;39;11 – 00;22;44;13
Lisa
And we have made that museum a lot better than and then it was when we got there.
00;22;44;13 – 00;23;16;00
Ryan
Well, speaking of that, the is it that attention to maybe in an underserved area that led to the 2022 indigenous exhibit that you did? Because I find that that story very fascinating, you know, is featured on the news here and there. And you said something really cool about that that I thought was really neat about your I believe, a philosophy about, you know, how you feel is that you you quote you were quoted as saying, we hope it will spark conversations between parents and their children.
00;23;16;00 – 00;23;40;06
Ryan
And a big theme is connecting parents and their kids. You know, sometimes you may think it's just about the kids, but it's that connection. But speaking of that exhibit, something that I thought was interesting was it was something that was, you know, created the idea was created in 2015, and here we are, 20, 22 talking about it. So what did you learn in that journey?
00;23;40;06 – 00;23;46;21
Ryan
You know, why does it take so long? Is it is it difficult? Are there hurdles you have to get over just to make something like that happen?
00;23;47;23 – 00;24;11;06
Lisa
Well, I think fundraising is cyclical. And I think from the amount of DIY initiatives that we've seen recently being like the last five years, it really sort of came out of fashion, as weird as that sounds. But then it came in a fashion. But I guess people just became aware of it right? It's, you know, it's always been, you know, a big deal, but it's, you know, just thank God came about now.
00;24;11;06 – 00;24;44;29
Lisa
So it really when we first started fundraising for it, it was not on a lot of funders, radars. It wasn't very interesting to them. And then it did become interesting to them. And so the main part of that, you know, was we wanted to pay artists appropriately and we also wanted to be very careful about getting about asking artists to do what we wanted them to do versus allowing them to do what they wanted to do, which is tough because they also don't have experience.
00;24;44;29 – 00;24;52;00
Lisa
Working with children were the ones who have the experience with children, but it's a new frontier for everyone.
00;24;52;00 – 00;25;09;13
Mark
And so all navigating the the the diversity that you have to do as a children's museum and things that may trigger a more controversial discussion that goes beyond what is appropriate for little kids and young families.
00;25;09;13 – 00;25;33;03
Ryan
Well, I never saw the exhibit itself, but from what I saw in the media that's out there on it, I love what you said. You wanted to present it as a potentially difficult topic that parents and their kids can engage with. And one of your artists did have a piece that really stuck out to me, and the phrase was my culture was never your costume.
00;25;33;16 – 00;25;52;13
Ryan
And so it looked like you didn't shy away from a little bit of intensity in that exhibit, right? Because it wasn't you could have done a really easy kind of nice little piece that that, you know, satisfied our requirements. But it looked like it had some meaning. Was that the intention? Was it for to have some meaning?
00;25;53;13 – 00;26;18;24
Lisa
That artist pushed us. He really did push us and in that and so that was good growth for us. You know, we are settled in the middle, though. The things that are on the wall are a middle ground because we did want it to be a little bit more non-controversial and non. We just didn't know if we would get bad feedback, you know?
Ryan
Well, and the fact that it's being addressed and the way that you're addressing it and at the ages. So having said that, and not to take focus away from this particular topic, but knowing that it can be a 5 to 6 year process to get something like this, are you looking ahead to what the next thing may be to to maybe it doesn't have to be a thing that we should be talking about this right now or we need to get this on a fundraiser's radar.
00;27;40;07 – 00;27;42;16
Ryan
Mm hmm. As something kitschy, let's say.
00;27;43;05 – 00;28;14;29
Lisa
Well, we generally have a timeline of 3 to 5 years for exhibits planned out. How much we can change the exhibits, which exhibits can be upgraded and which will completely leave. And but one thing for kids is that things need to remain constant. So, you know, the routine is very important. So we did pull out an exhibit at the Water cycle exhibit and then kids are coming in and we were turning it into a new exhibit, but they were crying.
00;28;15;01 – 00;28;32;12
Lisa
Isn't there screaming? Yeah, but well, it was not the water table by the water cycle, but they look forward to coming in there. And that is actually how kids learn, is doing the same things over and over. But every time they come back, their brain is formed a bit differently. They have more of these cognitive connections, so they view it differently.
00;28;32;12 – 00;28;52;28
Lisa
And that's how those brain patterns are laid down and so it's like you wouldn't not have fun if you went to the same golf course. You don't need to go to a new golf course every time. But we still do want to keep things changes because also the parents are our market. If the parent doesn't have fun, they're not going to bring their kid back.
00;28;53;04 – 00;28;59;14
Lisa
And so if they say, Oh man, it's boring all the time, everything's the same. And we're like, But the kids need that. That's fascinating. Yeah, that.
00;28;59;14 – 00;29;19;05
Ryan
Is that's a really smart because as a parent, sometimes I guess you go to a place and you're like, Oh, they thought about us. And it's not just because they found a way to get beer or wine in there, you know, it's like they thought about us in some way. And that's a fascinating aspect of of what you do in the programing.
00;29;19;05 – 00;29;41;04
Ryan
So how involved in the programing are you in how much psychology, for example, is involved in this? Like you just said, you you know, you can't just change things out. You know, a layperson may think, oh, kids, attention spans are short. You need to keep switching it up and make people give them a reason to come back, you know, to pay that price.
00;29;41;14 – 00;29;42;24
Ryan
So clearly it's different.
00;29;43;10 – 00;30;04;00
Lisa
Well, we we have a rotating part of our exhibit. Many museums are so much larger than ours are, and they have rotating exhibits that you can rent that will travel throughout the U.S. that are really exciting. But generally they're their footprint is as big as our entire museum. So we did this a smaller area in at the back.
00;30;04;00 – 00;30;17;12
Lisa
So directly when you walk in though, it's the line of sight right at the back. So it would seem that things are changing more often maybe than they are because it's the first thing you would see. And so we wanted to have those rotating debits in there for about a year.
00;30;17;21 – 00;30;28;16
Ryan
Well, it's the the the psychology of, you know, of what you're doing and, you know, your involvement in putting those things together in the time that it takes.
00;30;28;21 – 00;30;53;25
Lisa
Yes. So I'm actually not at all involved in the creation, honestly. But what I will do is the Education committee, which is made up of several board members, several community members who have experience, and then our impact manager and our education director, they work together and they are both educators, you know, trained educators, and so they know how to better do these things.
00;30;53;29 – 00;31;14;27
Ryan
That's that's a fascinating part of this, because you have to rely on so many things that have to do with the growth of kids in. Although, yes, you are a museum. It sounds like you have this sense of responsibility, like nothing is done in a in a manner that doesn't have a lot of cogent thought. But behind it.
00;31;14;27 – 00;31;46;08
Lisa
Right. That's absolutely true. And that's, you know, the board members, the committee members that we have, we have an M.S. early childhood education. The director is on our board. And one person who has brought the are in charge of the 5 to 1 network and all of the neighborhood, just a really young childhood initiatives for know Venture North is also involved and they have been long time people involved with us because as so many things are changing, we can't keep up.
00;31;46;08 – 00;31;59;10
Lisa
You know that I'm not trained as an educator, so I mean, I don't really make that connection. But what I can do is find out and listen and see what they're talking about. And it sounds sort of boring. And then I can think of a way for it to be interesting and then I can tell you guys about it.
00;31;59;15 – 00;32;02;28
Lisa
And then you might want to donate if you think it's cool. Well, that's interesting.
00;32;02;28 – 00;32;28;19
Ryan
Okay. So you say you're not an educator. I would maybe I'm just saying I think it's different because you're contributing so much to education, but your perspective is different. So you may have that outside eye that makes it fun for somebody who this may not be their thing, but you look at the connections between creativity and learning. And I think it's really interesting the line that you thread.
00;32;28;19 – 00;32;30;00
Ryan
Are you a creative person?
00;32;30;20 – 00;32;31;19
Lisa
I would not say that.
00;32;31;19 – 00;32;45;04
Ryan
No, you would not. And I think a lot of creative people are people who don't think they're creative. Do you feel badly about that? Oh, I said it wasn't a gotcha show. Looks like we gotcha.
00;32;46;05 – 00;33;13;25
Lisa
Know I feel badly. I, I feel. I feel like the team that we have in place at the museum is honestly so good. And we call it we call ourselves the tripod between my executive director, our impact manager and myself, because I do the money and the executive director does like the operations and what he does. And then the impact manager does a lot of the program management.
00;33;13;27 – 00;33;17;22
Lisa
All right? And we each have our very strong, so very good that we're there.
00;33;18;02 – 00;33;59;28
Ryan
There's so there's a connection between, you know, creative styles of learning. And there's a couple of schools that are. But in general, you know, depending on what hemisphere in your brain are dominant, you still want both sides to interact in some way. Yes. So you have this platform. So do you find that in this journey, in this pursuit, over all these times and all this time working with kids and thinking about things for kids, it's altered how you approach your own life, your own trajectories, for example, I'm fascinated by a concept called functional fix in this, which is you're out of coffee filters at home and you're like, Well, I don't want to go out
00;33;59;28 – 00;34;15;26
Ryan
and get coffee filters, but, you know, a little kid's going to go, Well, why don't we take this paper towel and we can make a coffee filter for you, and we lose that along the way. So is that something again you think has affected you, or maybe completely not. You've stayed intense.
00;34;16;04 – 00;34;45;17
Lisa
Well, I certainly know that coffee filter trick, and I've done it many times because I'm not a very good planner. And so I wouldn't think to get the coffee filters until they're absolutely gone. So being at the Children's Museum certainly pokes at the playful side of me and the people that I'm around and hearing the children laugh all the time and seeing them smiling and screaming and splashing in the water and just being so excited is a fun environment to be working in.
00;34;45;17 – 00;34;58;11
Lisa
And if I ever feel kind of burnt out, I can just literally walk over to the bathroom and just like stand there and just look at the kids. And one of them, they're always doing something crazy. And you know.
00;34;58;28 – 00;35;07;01
Ryan
That ambient sound of children at play and happy. Yeah, that has to be something that isn't a bad their white noise.
00;35;07;05 – 00;35;24;05
Lisa
It is not in the top. We don't have a tap like there's some kind of mezzanine at the top of our place because it used to be a marine boat storage or sales room. And so it's just an art. So we don't have like a ceiling that extends to the top so we can hear everything that goes on.
00;35;24;08 – 00;35;32;13
Lisa
Oh, nice. Most of the time. So if I'm working on something that I need to focus on my computer, then I'll usually put in music.
00;35;32;14 – 00;35;54;10
Ryan
Okay. So in your working styles, you just talked about all the people who are helping you and it sounds very diverse and you have a very diverse board, I'm guessing as well. How important is that as a mix to surround yourself with that diversity? Because I know it's maybe assumed, Oh, you need a very diverse board, but sometimes, maybe not.
00;35;54;10 – 00;35;55;16
Ryan
So I'm curious as to your take.
00;35;55;26 – 00;36;33;05
Lisa
No, I think it is really good to have a diverse board we have. It is challenging to get diversity up in this area. I think we've done a pretty good job over the years of reaching out and trying to at least ask a lot of different people to come be on our board. Funnily enough, a lot of people think that they don't have enough to offer enough to give, and we see them and we see them on paper and we know them in the community and we think, what the heck, We would love to have you, because we do want a mix of grandparents, young parents and non-parents.
00;36;33;05 – 00;36;55;02
Lisa
I'm a non parent, so it's it's just good to have all that. And, you know, you need to just know things about what is happening in your community, other activities going on. Are we going to collaborate with this opportunity? You know, if you don't have enough people to be out talking like board members knowing what's going on, then they can't suggest collaborations for you.
00;36;55;02 – 00;36;55;22
Ryan
Right? Right.
00;36;56;06 – 00;37;21;14
Lisa
And it's really varied since when I came, I believe it was all women, all mothers and one father. And now we've Swan we've gone up and down. But now I think we're all men and one woman. So it's just, it's different, you know, it's different because I don't have anyone to help me plan the party. So I had to recruit outside people when, before I had board members to help me with that.
00;37;21;14 – 00;37;23;14
Ryan
Well, then you have volunteers.
00;37;23;14 – 00;37;23;27
Lisa
Yes.
00;37;23;27 – 00;37;33;18
Ryan
And what what is the you know, and I know we're all looking for volunteers and help, but what's what are qualities that you just love in volunteers?
00;37;34;14 – 00;37;48;18
Lisa
You know, it's kind of tough because we have a lot of events. And so especially throughout the summer, you know, everyone with our mobile museum, which is amazing and can go to any location, has all of these.
00;37;48;18 – 00;37;49;13
Ryan
And that's still happening.
00;37;49;13 – 00;38;09;04
Lisa
Yes. And that's getting better every year. Great. Yes. We got this amazing grant from United Way to make that one bigger and better than ever. Congrats. So yeah, because thank you for learning to be fun. It has to be awesome, right? True. True. So you have to go there and you can all remember, like when you went somewhere and you saw like those things.
00;38;09;04 – 00;38;14;08
Lisa
I think they're called Van de Graaf generators that you touch and they, like, shoot the lightning out of your hands.
00;38;14;08 – 00;38;19;24
Ryan
Is that the name of that thing? So that's a great when you're dressed up fancy at a party to it.
00;38;20;03 – 00;38;20;13
Lisa
Right.
00;38;20;13 – 00;38;28;28
Ryan
If that whole thing about what you do doesn't get the semi-circle down shift into that van de Graaf Okay, thank you.
00;38;28;28 – 00;38;31;01
Lisa
Bye bye. Oh.
00;38;31;10 – 00;38;35;10
Ryan
I think it's even more interesting if you're wrong, because if you get into a battle about that.
00;38;35;11 – 00;38;36;22
Lisa
Kind, other is the.
00;38;36;22 – 00;38;37;08
Ryan
Best party.
00;38;37;08 – 00;38;59;27
Lisa
Ever. Yeah, but it's just so the Bubble Museum is just getting better and better every year. And then hopefully, you know, it becomes people say, Oh, well, this is going on what's going on in the museum. And plus we have a larger age range for the mobile museum. We have usually three tiers of activities based on the interest and the ability of the people who are in there.
00;39;00;03 – 00;39;11;29
Lisa
Right. And also that many families have multiple children. So you have to have something for a two year old and something for a six year old. So it can be tough from there.
00;39;12;04 – 00;39;15;05
Ryan
It's a small amount of years, but that can be tough.
00;39;15;25 – 00;39;16;19
Mark
Big difference for.
00;39;16;19 – 00;39;16;28
Lisa
Them.
00;39;17;01 – 00;39;22;05
Ryan
Yeah, and those are the fights at home that parents just want to be away from.
00;39;22;06 – 00;39;23;11
Mark
Your kids are four years apart.
00;39;23;21 – 00;39;28;09
Ryan
Correct? They're beyond having most of that. But the.
00;39;28;09 – 00;39;28;22
Mark
Difference.
00;39;28;22 – 00;40;06;15
Ryan
In their at the age that I would absolutely take them one of them's a teenager but you know, and not just because I've spoken to you, but that's a part of our community and that's a part of learning. You know, my daughter's maybe interested in education. My wife's an educator, so this is a big part of it. So a question I like to ask and this is a consistent one as well, but thinking about all those things, that journey that's questionable, whether you're on witness protection or not and all these things, And was there any advice you got along the way that sounded just insane the time, but at this point in your life has
00;40;06;25 – 00;40;09;12
Ryan
become true or more helpful than you thought?
00;40;09;23 – 00;40;43;11
Lisa
You know, the advice of being able to take life on life's terms I think is so helpful because I feel like that is what I try to do. The only times that I feel really frustrated in life is what I'm trying to make life go some other way. But as as in that when I see other people, when they're frustrated too, and it's way easier said than done, but being able to regulate yourself and, you know, just change your behavior to to finish, figure out what you can do in that situation.
00;40;43;11 – 00;40;50;16
Lisa
And that's it. That's it is what I can do in a situation and the rest of it, it isn't up to me. It's it's up to God.
00;40;50;19 – 00;41;12;23
Ryan
But I can see that as maybe I don't know when you got that advice, but at the time saying untenable or maybe crazy, but Right. No being real. So my final question for you. And again, I know this is not a hard hitting show, but it just it connected with me as an efficient myself. What's your craziest wedding efficient story, if you have one?
00;41;12;26 – 00;41;36;22
Lisa
Oh, my gosh. Well, I don't have where I was a quick, crazy officiant, but when I lived in Nashville, my brother and his longtime girlfriend, who is Taiwanese, came back from Taiwan and visited me and they wanted to get married. And so I was looking up officially and said we needed to do it like the next day because they were just in town.
00;41;37;07 – 00;41;43;03
Lisa
And we got a guy who, you know, wore the top hat and sort of a.
00;41;43;13 – 00;41;45;06
Ryan
White, very cowboy type of thing.
00;41;45;07 – 00;42;02;18
Lisa
No, very top hat. So like a sort of a top hat, like with coat tails, but like a warlock sort of a person. So I'm just saying. Wow, Very long fingernail crystals. Yeah, he was. Yeah, he was. I don't know about long fingernails, but why stones? Yes.
00;42;02;18 – 00;42;05;06
Mark
And first I thought Abraham Lincoln, but then, you know, said.
00;42;05;06 – 00;42;07;07
Lisa
Like he really took it in a different direction a.
00;42;07;08 – 00;42;07;15
Mark
Lot.
00;42;08;03 – 00;42;13;18
Lisa
But what he said was if you guys wanted a theme, he could work with that because that wasn't.
00;42;13;18 – 00;42;14;18
Ryan
His short notice.
00;42;14;18 – 00;42;16;03
Lisa
That wasn't. No, but that was.
00;42;16;06 – 00;42;18;00
Ryan
He couldn't work with a theme show about us.
00;42;18;01 – 00;42;21;18
Lisa
He was like, I can get a tremendous person.
00;42;21;18 – 00;42;22;07
Ryan
Wow.
00;42;22;26 – 00;42;24;10
Mark
We're having a normal person theme.
00;42;24;12 – 00;42;25;03
Lisa
I now know.
00;42;25;12 – 00;42;28;08
Ryan
That you were. Well, we'll go with the Warlock theme.
00;42;28;08 – 00;42;30;07
Lisa
Thank you. Wow.
00;42;30;08 – 00;42;43;12
Ryan
Included I. That was so much more than I'd hoped for. Gosh. Well, how what's the best way to connect with you? Support to donate to be a part to buy tickets is it the website.
00;42;43;22 – 00;43;08;17
Lisa
Yeah absolutely WW W dot Great Lakes kids dot org has all of our information on there and it reaching out it has a contact form I'm sure but yeah or even just stopping by because we would always give you because if you don't have children you can't come into the museum because that would be creepy. But if you ever want and you're curious about it, we're so happy to show anyone around.
00;43;08;26 – 00;43;30;25
Lisa
So you know, we're always there and available. So I would love to show people around. And really what's exciting is that every time somebody comes in, they're like, Wow, so many things have changed. And, you know, are they remember bringing their kids? Or it's the 20 something year old volunteers we have that are like, I remember coming here when I was a kid and I don't know, it's just really.
00;43;30;25 – 00;43;32;01
Ryan
Cool is amazing.
00;43;32;01 – 00;43;32;13
Lisa
Yeah.
00;43;32;24 – 00;44;03;16
Ryan
Well, Lisa, thank you so much for your pursuits and to all of those who pursue along with you, ensuring kids and families and parents have an amazing place to learn, plant and grow. This has been so awesome. Thank you. Thank you. And again, the website is Great Lakes Kids dot org. Is that correct? Excellent. Thank you, Lisa. And to our listeners, thank you so much for listening and thank you for pursuing the positive.
00;44;03;16 – 00;44;26;22
Mark
Ladies and gentlemen, thank you for joining us one more time on the pursuit of podcasts, The Pursuit of Great Lakes Children's Museum. Lisa Brady My friend, thank you to you and the whole crew down at the Great Lakes Children's Museum. And for all that you do in all your pursuits, for more information and to get involved, go to Great Lakes Kids dot org.
00;44;27;14 – 00;44;43;01
Mark
And as always, for all things audio, video, podcast production related go to New Leonard dot com.